Perkins Eastman Publishes Study Linking Design to Occupant Satisfaction
NEW YORK — Yet another white paper proves that efficient design strategies have a direct correlation with occupant satisfaction and building performance.
"Measuring Up: Using Pre- and Post-Occupancy Evaluation to Assess High-Performance School Design" was published Aug. 28 by key designers at architecture firm Perkins Eastman, with offices in New York. The white paper highlights a design research study conducted by Perkins Eastman, using Dr. Martin Luther King Jr. School, located in Cambridge, Mass., as a test case. The design team showed that the efficient design strategies used at the school showed a significant and measurable impact on both occupant satisfaction and building performance, according to a statement.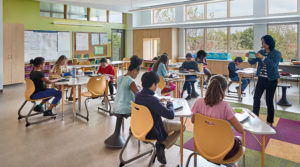 Opened in time for the 2015-16 school year, the 169,000-square-foot school was designed to achieve Net Zero Energy in an urban learning environment. The school, serving grades PreK–8, features a high-performance design that now stands as a prototype for the district as well as for other schools across the country attempting to achieve Net Zero Energy. Not only did the project incorporate sustainable features such as the use of photovoltaic panels, it also created several outdoor learning spaces, including a City Sprouts garden, outdoor hard and softscape areas, a preschool playground, teacher's patio and a courtyard garden featuring an indoor/outdoor performance space.
The Perkins Eastman study stands out from other academic studies investigating Indoor Environmental Quality (IEQ) in schools in that it was designed to examine multiple, concurrent factors — producing a more holistic picture than single variables studied in isolation can provide, according to a statement. The study reported satisfaction levels increased between 53 to 66 percent in every measure, including daylight, thermal comfort, acoustics and air quality, which indicated meaningful improvement.
The study showed that even minor improvements in building performance using high-performance design strategies can significantly impact occupant satisfaction and performance.
Some of the design strategies highlighted in the study include massing to help the school fit into its residential neighborhood, an emphasis on public spaces, flexible "corridor" spaces that enhance extended learning, creating three "neighborhoods" for the different grade levels and access to nature.
This article originally appeared on School Construction News.