University of Miami Earns STARS Silver Rating
By Rachel Leber
CORAL GABLES, Fla. — The University of Miami (UM) has earned a Sustainability Tracking, Assessment & Rating System (STARS) silver rating from the Association for the Advancement of Sustainability in Higher Education (AASHE) in 2017. This rating was awarded for the school's many achievements in the area of sustainability. The STARS rating is a self-reporting framework for colleges and universities to measure their own sustainability measures and performance, and serves to encourage sustainability in higher-ed schools across the board.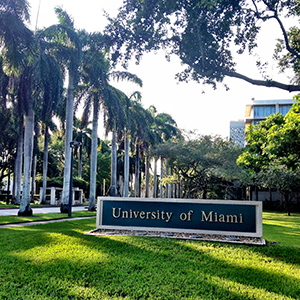 UM has been committed to sustainability for more than 10 years, with a number of buildings on campus earning LEED certification status as well as a number of formal pledges and commitments to sustainability since 2007. Donna E. Shalala, president of UM, signed the American College and University Presidents Climate Commitment (ACUPCC) in 2007. The school also signed the Talloires Declaration of the Association of University Leaders for a Sustainable Future, a document composed in 1990 at an international conference in Talloires, France — the first official statement made by university presidents, chancellors and rectors of a commitment to environmental sustainability in higher education. The signing of both documents are demonstrations of UM's commitment to sustainability, as well as many other actions the school has taken in an effort towards becoming more green.
As part of the ACUPCC pledge, the school designed a Climate Action Plan in 2009. This plan includes an outline of possible scenarios that will reduce the greenhouse gas emissions of the university by 2020, as well as a goal of carbon neutrality. Additionally, "GreenU"— the sustainability office at UM — aims to re-apply to STARS every three years with the intention of having an appropriate timeline for planning as well as the implementation and measuring of changes in sustainability initiatives, according to Teddy Lhoutellier, UM sustainability manager in a recent interview with TheMiamiHurricane.com.
One of UM's most notable accomplishments includes the recent LEED Platinum certification of the Patricia Louise Frost Music Studio Complex in 2015. This accomplishment for the university means the first higher education building in the region to achieve LEED Platinum certification. The music facility has a 70-KW solar system, electro-chromatic windows and a rainwater harvesting system for irrigation of the landscape and facility toilets.
Additionally, the Hecht/Stanford dining hall uses a biodigester for food waste, and the food court has solar panels installed on the roof. The University of Miami Student Activities center was LEED Silver certified in 2016 for new construction as well as the Schwartz Center for athletic excellence receiving LEED Gold certification in 2015. Two more campus buildings — Merrick Hall and Gables Hall — are currently in process for LEED certification.
The UM community's collective efforts have led to improved energy conservation, waste diversion and public engagement. However, GreenU still identified some areas for improvement for the campus while undergoing its self-imposed STARS gap analysis. These areas include sustainable dining, waste minimization and peer-to-peer sustainability education.
As a response to the gap analysis, waste minimization efforts are currently underway, including the establishment of single-stream recycling throughout the university's campus. These recent efforts include the biodigester in the dining hall to convert preconsumer waste into gray water. Additionally, GreenU and the ECO Agency — a branch of student government that focuses on environmental initiatives — have partnered to establish a stronger peer-to-peer sustainability education program called Eco-Reps.
"You can't promote an idea if you don't come up with a plan, some kind of strategic plan, and that's what STARS offers," said Lhoutellier. "We benchmarked against other universities, came up with gaps and said, 'This is what we need to make sure we are more sustainable in two years' — and that will translate with a better rating."
This article originally appeared on School Construction News.