Fitwel Building Certification Honors Real Estate Development Company
By Rachel Leber
PASADENA, Calif. — Fitwel is a new evidence-based building certification standard that evaluates building and office environment features for their positive impacts on building health and work productivity. Fitwel recognizes buildings with its First in Class Fitwel Champion honors, which was recently awarded to Alexandria Real Estate Equities, a Pasadena-based real estate investment trust (REIT). Alexandria earned the recognition on Nov. 16, 2016 and is the first real estate developer and REIT to earn this certification.
Fitwel was developed by the Centers for Disease Control and Prevention (CDC) and the General Services Administration (GSA), and is operated by the Center for Active Design (CfAD). Fitwel's overarching goal is to foster positive impacts on building health and productivity through improvements to workplace design and policies. Research by the CDC has demonstrated that promoting health through programs, policies and environmental changes can support employee health and productivity and increase potential savings in health care costs.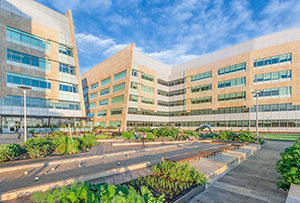 Fitwel gives points for properties and building types that offer proximity to public transit, access to fitness facilities, design of outdoor spaces, indoor air quality and healthy food options. Four of Alexandria's buildings received a three-star rating from Fitwel — the highest rating possible — for excelling in all of these areas and demonstrating the highest levels of occupant health and wellness, scoring a total of 125 out of the possible 144 points.
The buildings that won Alexandria its First in Class Fitwel status include the Alexandria Center for Life Science (both towers) in New York City, the Illumina buildings in San Francisco, the Novartis building in Cambridge, Mass., and the Alexandria Center for Life Science at Campus Pointe in San Diego. These buildings all employed a wide range of Fitwel best practices.
One of these best practices includes the use of wide-open stairwells located in the center of each building. "The stairwells are set up centrally in the building as an effort to encourage people to use the stairs rather than elevators or escalators," said Vincent R. Ciruzzi, chief development officer of Alexandria Real Estate Equities Inc. "In doing so, we are encouraging physical activity, and thus healthier building occupants."
Another fitness-related element installed in each of these buildings is what Ciruzzi refers to as "activated" gyms, in that "they aren't just an empty workout room like you often find. Our gyms offer yoga classes, spin classes, nutritionists, personal trainers and more," he said.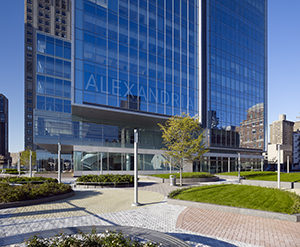 The hands-on element and engagement of teachers and trainers should encourage motivation and participation on the part of the building tenants, according to Ciruzzi.
Additionally, these three-star Alexandria buildings each have their own urban gardens, where healthy food is grown for the facilities' farm-to-table restaurants. Vending machines contain a healthy selection of food options for snacks. Walking trails encourage interconnectivity through campuses and encourage tenants to get outside. There are outdoor collaboration areas where tenants can have outside meetings when desired. Each of these sites provide showers and bicycle parking to support active commuters, and are within walking distance to public transportation. Signs are posted around the property encouraging people to walk rather than Uber or taxi from public transportation to the office.
Another major Fitwel best practice is setting standards and policies for indoor air quality, according to Ciruzzi. The Alexandria buildings have fully operable windows to allow in 100 percent fresh air — not recirculated air — according to Ciruzzi. Additionally, from a green cleaning standpoint, when contracting janitorial services, Alexandria chooses companies that aren't heavy with chemical or hazardous products, according to Ciruzzi.
"What is particularly exciting for us is we were already implementing these best practices in our buildings over the past 10 years. This recent Fitwel certification is great validation of our existing values and best practices," said Ciruzzi. "We look forward to continuing this collaboration with the CfAD, the CDC and the GSA, and [continuing] the practice of designing and operating buildings in a manner that will keep tenants and employees happy, healthy and productive."