Toledo Schools Look to LEDs for Energy Efficiency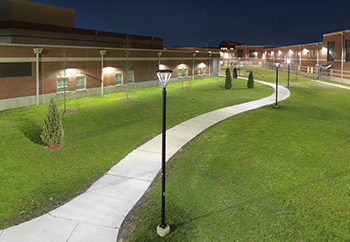 TOLEDO, Ohio — Exterior lighting can result in big operational expenses for public schools. As schools must consider costs for maintenance and bulb replacement, they should also be aware that some lighting fixtures may be more budget- and eco-friendly than others.
In a move to improve energy efficiency and save on operation costs, the Toledo, Ohio, public school system turned to LED lighting. Toledo Public Schools (TPS) worked with Durham, N.C.-based Cree, which provides lighting systems for commercial and institutional clients, to help overhaul outdoor lighting for its 42 campuses. The goal was to deliver improved light quality and energy optimization while lowering the total cost of ownership compared to outdated metal-halide and high-pressure-sodium alternatives.
"This is very typical of what we see within the industry today, which is largely integrated lights and older technology — high-intensity discharge (HID) lights that come in either high-pressure-sodium or in other forms," said John Casadonte, vertical marketing manager for lighting at Cree. "Typically these lights have a lifetime that's fairly short and costs a lot of money to maintain. When you're maintaining a school system…it's a massive project, and it costs a lot of money."
HID lamps do create a bright light, according to the U.S. Office of Energy Efficiency and Renewable Energy. Specifically, within HID lamps, mercury, sodium or metal halide gas acts as the conductor. HID lamps use an electric arc to produce intense light and, like fluorescent lamps, they require ballasts. They also take up to 10 minutes to produce light when first turned on because the ballast needs time to establish the electric arc. Because of the intense light they produce at a high efficacy, HID lamps are commonly used for outdoor lighting and in large indoor arenas. Also, because the lamps take a while to establish, they are most suitable for applications in which they stay on for hours at a time.
However, in the pursuit of energy savings, TPS Maintenance and Operations Department Director Quentin Reynolds, along with Network Operations and Energy Efficiency Manager for TPS Ron Miller and TPS's energy consultant Palmer Conservation Consulting, based in Twinsburg, Ohio, focused on saving energy by replacing more than 2,500 outdoor metal halide and high-pressure-sodium lights with luminaires provided by Cree. The goal was also to turn the project into a learning opportunity for TPS students by building an interactive energy dashboard that provides real-time energy usage data.
"We are conducting energy usage programs within five schools, enabling students to monitor energy usage in real time, learn how to optimize it and compete for the lowest energy efficiency," Miller said.
Overall, the project incorporates LED area, canopy and wall-mount luminaires. It's expected that the transition will save one school in particular an estimated $355,000 in lifetime energy and maintenance costs.
"We knew that energy-efficient LED technology was the best lighting solution from the start. Once we looked at the energy saving potential, payback time and maintenance savings, making the switch was clear," Miller said.
What exactly does a "lifetime" mean for school lighting systems?
"There's always a payback calculation in submitting projects regardless of the technology you're using," Casadonte explained. "Over a 'lifetime,' you're getting different views. Product lifecycles for high-pressure sodium and metal halide technologies are frequently replaced, for example. Their lifecycle can be anywhere from 20,000 to 25,000 hours. That typically means their burn cycle can be every couple of years. In a lot of cases, damage is done to those lights through vandalism and other problems that force more frequent visits and replacement. So when you look at lifetime, you look at how frequently are you replacing the fixtures in those areas.
"The second part of lifecycle is the replacement of products — do they offer you any advantage over your incumbent technology? What [TPS] found in our products is that [Cree] offers a 10-year warranty," Casadonte continued. "Any time a product breaks or is not functioning properly, we warrant that product with a brand new fixture to replace it. So in a sense, there is zero risk from a new technology point of view for over 10 years."
One TPS facility that is looking forward to the energy savings is Start High School, which expects to see a 69 percent energy savings based on watt reduction from LED lighting. Cree notes that their LED lights are also virtually maintenance-free for 10 years; therefore, TPS expects a lifetime savings of more than $125,000 on maintenance costs, while also enjoying improved light quality and exterior aesthetics.
In addition to energy and maintenance savings for all 42 district schools, the Toledo Public School district was able to secure $140,000 in utility rebates from First Energy, a Toledo-based energy company.
"Most schools are progressive on energy savings. People care and like to see projects that have an obvious payback," Miller said. "The initial cost of a large LED project like this seems high; however, when you look at the energy numbers, the payback time and the maintenance savings — it was clearly the right type of project for TPS to take on. Any savings on energy can then be directed toward the classroom."
There are four different products as part of the project, according to Casadonte.
"There are area and parking lights for visibility purposes. The other lights that play into the project are in drop-off points, and we've provided canopy lights and walkway lights. They're shorter, and you'd find those along the sidewalks around the buildings," he said. "When you're using HID technology, if you have a metal halide or high-pressure sodium bulb that goes into these fixtures, the only way that fixture is pushing the light is through a reflector that's broadcasting the light. With LED, because these are solid-state lights, we can offer up to 15 different optics that can be broadcast in various ways. Depending on the layout of what we're replacing, we can design an architecture that provides a greater consistency of light over a greater distance. There is a tremendously better light not only because of distribution but the quality of light is so much better.
"It's not only the optics but the technology within the light itself," Casadonte added. "The actual device that's generating the energy to power the LEDs is something that's called a driver. Our designs have been paramount to the longevity of our products. By developing a decent driver in our lights and coupling them with our LEDs, it gives a better quality of light and imagery."
After implementing LED lighting in its outdoor areas, TPS is interested in exploring LED lighting for interior applications as well.
"Funding is always an issue, but upgrading to LED lights is a clear decision. The numbers are what they are and it just makes sense," Miller said.
This article was originally published in the September/October issue of School Construction News.