GE Announces Solar Energy Project in N.Y.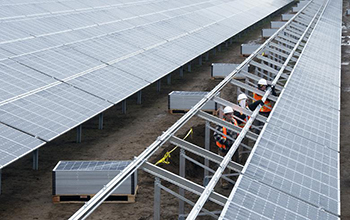 NEW YORK — General Electric Co. (GE) announced May 29 that it will begin construction on a new 2-megawatt ground-mounted solar installation unit stationed outside of the President Container Group (PCG), a Moonachie, N.J.-based manufacturer of corrugated shipping containers, in Middleton, N.Y.
Since receiving approval by the New York State Energy Research and Development Authority's (NYSERDA) NY-Sun Incentive Program, this solar system project is now considered one of the largest privately owned solar installations in New York and expects to produce 25 percent of PCG's future energy needs. This solar energy increase will offset the company's current electricity costs, which were rising at about 5 percent per year.
"Working with GE, we saw an opportunity to take control of our energy future in a way that was both economic and sustainable, said Richard Grossbard, general manager of PCG, in a statement. "The GE team worked with us through every part of the process, from the incentive applications and zoning approvals, to the equipment and site engineering, all the way to today's installation. We're excited to become a leader in the solar space."
As part of their contract, GE is providing PCG a total solar solution, consisting of equipment, site engineering, construction and installation, commissioning, spare parts, and operations and maintenance support for seven years. This is the first deal in which GE has acted as both a developer and as an equipment provider, offering a fully integrated solar approach, according to Erik Schiemann, general manager of GE's solar product line.
"By acting as both a developer and equipment solution provider, we're making it easier for commercial and industrial companies like President Container to invest in solar power," said Schiemann in a statement.
GE plans for the ground-mounted installation project to become commercially operational by fall 2015.