Q&A: DIRTT Sustainable Solutions Offers Versatile Green Interiors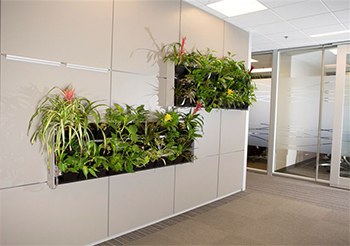 CALGARY, Alberta — DIRTT Sustainable Solutions' prefabricated architectural interiors can deliver a flexible design without waste. Appropriate for commercial offices, schools, hospitality, retail, residential and most health care facilities, DIRTT solutions can be repurposed and reused for a variety of applications and applied in a short time. DIRTT products are constructed sustainably and avert the need for facilities to tear down walls or interiors for future renovation. The solutions, which include walls, doors, millwork and floors, are implemented using 3D software to create highly customized interiors. From function to aesthetics, DIRTT solutions can be oriented to fit the needs of end users. Green Building News spoke with Julie Pithers, business and community development with DIRTT, about the benefits of using DIRTT in green construction projects.
Q: What kind of sustainable solutions does DIRTT offer?
Pithers: DIRTT offers solutions that offer behavioral sustainability to our clients. The prefab construction elements are made to measure, assembled in a clean controlled factory and installed in a client's space without material waste. The ongoing adaptive nature of the solutions allows clients to keep the elements in use for an exceptionally long lifecycle.
Q: What are some of the major benefits of using DIRTT?
Pithers: DIRTT is the only manufacturer that offers custom dimensions, aesthetics and functionality as a standard practice. This allows for a better fit and finish in working with the dimensions of the base building and allows clients to create more efficient real estate footprints.
Q: What are some common construction or building issues that DIRTT can address?
Pithers: DIRTT offers faster construction with less labor. Because DIRTT only manufactures custom sizes, a precise match with the base building dimensions offers the best module size for future reconfiguration. DIRTT uses a software platform that harnesses the video game experience, so end users, design teams and the construction teams are fully engaged in the design. The software also sends the assembly information to the DIRTT factory, so there is little room for human error and projects can begin immediately.
Q: Can you describe the flexibility offered by DIRTT?
Pithers: DIRTT offers plug-and-play power and data solutions. The DIRTT Walls and floors are accessible for ease of maintenance without damage. The walls also integrate any technology for space saving and easy access. The entire DIRTT system is product neutral to support any new or legacy furniture, fixtures and equipment. As a business adapts its space and adds new employees and new technologies, DIRTT adapts as well with minimal reconfiguration.
Q: Could you tell me about a recent project that greatly benefitted from DIRTT?
Pithers: The Mercy Hospital in Cincinnati used DIRTT Walls and Millwork on a recent project. Because of our 3D software, ICE, their clinician teams were able to precisely place all the equipment they needed access to at the best ergonomic location on the wall. They were also able to add a higher level of fit and finish because of the savings they received from the speed and less labor of prefab.
Q: What kind of technologies assists DIRTT in their projects?
Pithers: We developed our own 3D software solution that is the first step in creating sustainable interiors. It instantly creates interactive 3D flythroughs of the design, produces a price automatically while simultaneously determining the manufacturing instructions at the DIRTT factories. Any modifications are instantly updated. This allows the customer to view and make changes as needed, share design info across teams and reach a final design and be move-in ready in just four weeks.
Q: How are DIRTT interiors cost effective?
Pithers: A DIRTT project is the same cost or less than a conventionally built project. The key is the substantially shorter schedule to completion along with a minimal number of experts such as electricians and data installers required to complete the project. The DIRTT Walls are pre-engineered and prefabricated with electrical outlets.