Green Roofs Give Patients Natural Experience at Penn State Hospital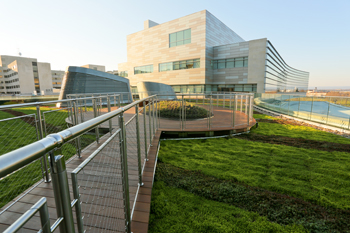 HERSHEY, Pa. — The new $239 million Penn State Hershey Children's Hospital at Penn State Milton S. Hershey Medical Center was dedicated on Nov. 13 and will see its first patient in early January. Its theme, "learning and healing through nature," is integrated throughout the entire facility, from the images of plant and animal life decorating the lobby to the green roofs that allow for patients to find a sanctuary outside.
"The whole idea of the Hershey project is based on organizing the hospital around all these very distinct landscape spaces that are integrated within the clinical setting. There's not a single treatment station in the building that's not directly facing one of these [green spaces], which is very unique in a hospital. We call it embedded nature because it's embedded in the planning strategy. Green roofs were essential in order to have this many opportunities to do this," said Kevin Sullivan, principal-in-charge of the project at Payette, a Boston-based architecture design firm.
The design incorporates several green roofs that each have "very particular, programmatic uses. The landscape and palette of materials and even typography of roofs is incredibly varied depending on what's going on there," Sullivan said.
For instance, on the third floor of the building, there's a green roof for inpatients to be able to walk outside in their robes. It features a boardwalk that extends out from the children's hospital and has a circular-like dock located in the middle of a vast green space. "It's a place where kids can ride Big Wheels and tricycles and goof off, but in a very private way," Sullivan said.
In contrast, the hospital garden, adjacent to the main hospital, is a very public space that serves as a sort of green roof piazza or living room for the facility, Sullivan described. There's also a healing garden, adjacent to the cancer center, created to serve the very specific needs of those patients going through radiation and chemotherapy treatments.
Some other elements incorporated into the design also encourage healing and fun for the young patients: a performing arts area, meditation space, interactive play areas and a learning wall. The design also features a lot of natural light and architectural details that represent the outdoors, such as the "waterfall" window located on the east end of the hospital.
"The most fun thing was integrating these thematic elements into the project, as well as the landscape architecture," Sullivan said. "There are many parts of the hospital that have these kinetic features that the kids can interact with. It was really fun integrating that with the whole idea of nature and green roofs.
"I would say you couldn't underestimate the impact of a green roof or a healing garden that has been done well. By far the most common comment that we have received is how surprised the visitors are that all these spaces are immersed in nature and that they never expected it," he said.
Construction on the freestanding six-story hospital building began in November 2009 and makes up 263,000 square feet of space. The hospital includes 72 private beds, a 10-room operating room suite and a 30-bay post-anesthesia care unit, which serves the entire medical facility.
Apart from the green roofs, the building was constructed using several green elements and is seeking LEED certification. "Almost everything we looked at in terms of building materials were sustainable or from local sources," Sullivan said.
The $207 million hospital building was part of a $239 million project that also included an expansion to the Centerview Parking Garage and a new Support Services Building. The construction manager was L.F. Driscoll Company LLC, based in Bala Cynwyd, Pa.