Durham County Courthouse Earns LEED Gold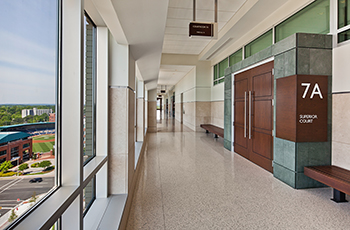 DURHAM, N.C. — The design for the new Durham County Courthouse in Durham earned the building a LEED Gold certification and a publication award in the 2014 Justice Facilities Review by the AIA Academy of Architecture for Justice.
The new $85 million, 11-story courthouse was designed by Durham architect O'Brien Atkins Associates. Heery International of Atlanta served as design consultants responsible for courts planning and courtroom design. The facility was completed in February 2013.
"One of the [Durham's] county commissioners voted that any new buildings should be a minimum of LEED Silver, so the county adopted that as policy. We told them we could go one step further to LEED Gold," said Kevin Montgomery, a principal and the director of architecture for O'Brien Atkins Associates.
The courthouse serves as an anchor for downtown Durham and completes the city center. The terraced plaza in front of the courthouse is used a formal outdoor space for conversation. In addition to 21 courtrooms, the 318,000-square-foot courthouse consolidates a number of judicial functions into a single facility, including space for the Durham County sheriff, clerk of courts, district and superior courts, public defender, district attorney, trial administration and holding cells.
There are many green features incorporated throughout the layout and design of the building. "Using the orientation and natural siting of the building, which faces north/south, it allows for good daylighting opportunities," Montgomery said. "We used regional materials in the design, and we use cisterns to capture rainwater. There is a green roof, access to public transportation, bicycle lockers and water-efficient waterless urinals. All water fixtures are low flow and volume efficient."
Daylighting was an important consideration for courtrooms, as well as spaces adjacent to windows, according to Doug Kleppin, vice president and the head of design for Heery International's Orlando office.
"One of the challenges in a typical courthouse configuration is that when it's linear, you wind up with internalized spaces. One of the successes of the building is that we were able to get natural light deep into the courtrooms," said Kleppin. "The courtrooms are embedded with all kinds of supports around them and we were able to free up some of that during planning so there aren't extra layers in order to create great volumes of light to these internal courts."
Other important sustainable features of the courthouse include controls systems to regulate daylighting, fixtures and air systems, as well as a light roof color that reflects heat energy. There is also priority parking for fuel-efficient vehicles, and the landscape surrounding the courthouse was designed to be drought tolerant. Inside, sustainably harvested wood can be found throughout.
Creating an environmentally friendly courthouse posed a challenge to the designer and builder because the site was originally home to companies that used toxic materials.
"The site was a brownfield (hazardous materials) redevelopment. The previous users were a funeral home and U-Haul, so there were contaminated soils," Montgomery said. "But the owner was willing to take on the brownfield. We don't think pursuing LEED made it a more expensive building. The building came in under budget in terms of the construction cost. The client didn't have to pay more to get what was wanted as far as sustainability goes."
One of the most important elements to building the courthouse in a sustainable way is to not only help with employee satisfaction but to encourage more efficient and productive use of the building.
"The natural light just improves the overall process of the courts," Kleppin noted. "The way that the public spaces are oriented to the exterior and to the natural light also improves wayfinding because you have these visual clues as to how to get to where you need to go. You can see it as you are arriving, and as you move through, you are drawn to the light. To have access to natural light and to be able to see the sky has so many health benefits for those that are there day in and day out."
This was originally published in the May/June 2015 issue of Correctional News.