Barnesville Hospital Named 2017 ASHE Energy Champion
By Rachel Leber
BARNESVILLE, Ohio — The Barnesville Hospital will be named 2017 American Society for Healthcare Engineering (ASHE) Energy Champion for the Energy to Care award, an award that highlights the hospital's leadership in becoming a more energy-efficient facility and using saved resources to support patient care.
This year, Barnesville Hospital joined dozens of others in competing for the award. The honor was announced on Aug. 6 at this year's 54th Annual ASHE Conference and Exhibition, which was hosted in Indianapolison Aug. 6–9.
The ASHE Energy Champion Award is given out once per year by the American Hospital Association to honor a single facility that has demonstrated outstanding leadership in energy efficiency. In particular, Barnesville Hospital recorded an Energy Star score of 99, which indicates that its performance is better than 99 percent of buildings in its category. The Energy to Care program is sponsored by Johnson Controls. Earning the award requires that a professional engineer peer review the application and data submitted by participating facilities. Energy to Care award winners are recognized for reducing their energy consumption by 10 percent or more over their baseline energy consumption — Barnesville Hospital accomplished this and much more.
Barnesville hospital's energy-efficiency accomplishments included many efforts made between 2015 to 2016, and were spearheaded by Michael Carpenter, director of facilities at the hospital in collaboration with Wes Doudna, maintenance supervisor. These upgrades included LED replacement projects for exterior lighting in the parking lots and building wall packs as well as the replacement of hospital dietary equipment with Energy Star rated appliances. Additionally, the hospital implemented a new direct digital control system (DDC) for the emergency department and upgraded enhancements of the existing DDC for the remainder of the building.
The updated DDC allows for a centralized network to program, control and review actions and needs of the facility's HVAC system.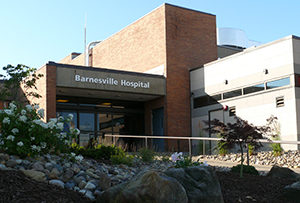 Additionally, a major emergency department construction project was completed in 2015, which included the installation of LED lighting throughout all of the newly constructed and renovated areas. These projects were assisted and made possible by the opportunities and support provided by the AEP Ohio Business incentives program and the Ohio Hospital Association Energy Program.
"When we started with the ED expansion and renovation, we knew that we were energy inefficient, so we really wanted to make energy conservation a priority," said Doudna. "We researched going entirely green, but found that was a bit out of our budget. While the changes we made were relatively simple upgrades, in the end, it made a big difference for the energy efficiency of the hospital." Going forward, one of the hospital's future goals is to replace the rest of the hospital with LED lighting, according to Doudna. He also emphasized that the view of the team is that more hospitals and health care agencies "would do well" to make similar energy improvements.
Efforts on the part of Barnesville Hospital to reduce their energy usage led not only to their Energy to Care Award champion status in 2017, but also earned them the Ohio Hospital Association (OHA) Energy and Sustainability program award for small hospitals in the top three in 2016, with a calculated 31.58 percent reduction in energy usage. The hospital won this award in competition with 86 Ohio hospitals and 59 health care buildings.
Additionally, the hospital earned the U.S. Environmental Protection Agency's (EPA) ENERGY STAR certification in 2017. Commercial buildings that earn EPA's ENERGY STAR certification use an average of 35 percent less energy than typical buildings and also release 35 percent less carbon dioxide into the atmosphere. Barnesville Hospital achieved this award thanks to all of their updates and upgrades to the facility between between 2015 to 2016.