Schools Get High Marks for LED Lighting Upgrades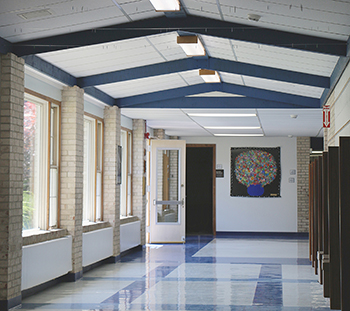 In today's fast-paced operating environment, the smart use of resources is a must for successful organizations, particularly schools, which are typically under pressure to balance rising costs with ever-tightening budgets. Easy opportunities to impact the bottom line probably exist right in your school's lighting system. With lighting costs accounting for as much as 30 to 40 percent of the average school's total energy expenses, lighting upgrades involving high-performing and energy-efficient LED retrofits can be a quick-to-implement means of improving your school's lighting quality and performance while significantly reducing operating costs.
LEDs: A Smart Choice for Schools
Long considered "the future of lighting," LED technology has advanced dramatically in the past five to 10 years and has become a proven new lighting standard in commercial, industrial, retail and educational facilities nationwide based on its performance, energy efficiency and long life. In the average classroom, LED alternatives are readily available and deliver better lighting output with up to 50 percent energy savings. Life expectancies are warrantied to last two to four times longer with minimal lumen depreciation. With their acrylic lenses, LEDs are safer and more durable than many of their conventional glass-enclosed counterparts, while their pricing has declined dramatically such that today's LED upgrades can routinely deliver payback periods in under one to three years, especially when subsidized by utility rebates.
Case in Point: Mequon School District
In keeping with its consistent rank as one of the top K-12 school systems in the nation, the Mequon-Thiensville School District in Mequon, Wis., proactively pursues the utmost in quality, comfort and energy efficiency for the district's three elementary schools, two middle schools, one high school and one community center. Recently, a lighting upgrade using LED Troffer Retrofit Kits and LED T8 Lamps from Harvey, Ill.-based LED manufacturer Litetronics brought improved lighting quality, maintenance ease and sustainability to the school system's facility floor space while significantly reducing energy consumption and costs.
Overall, "the look and feel of our lighting wasn't uniform," said Director of Facilities Kyle Thompson of the mix of T8 and T12 fluorescent lamps and incandescent technology present across the district's largely 1950s-era buildings. "Some areas were underlit, others were overlit, and the lamps were different colors."
In 2015, the operations team attacked this problem with a lighting upgrade involving Litetronics' Troffer Retrofit Kit, an 85,000-hour retrofit solution that quickly upgrades a standard fluorescent troffer to powerful, long-lasting and highly-efficient LED technology. Where appropriate, this technology was also complemented with Litetronics' Plug & Play LED T8 lamps, which fit directly into existing linear fluorescent fixtures and deliver long 50,000-hour life.
"We're enjoying a 2.8-year payback on the energy savings alone, not to mention the maintenance savings," Thompson said. "In addition, we're securing better and more consistent light because the LEDs don't lose light output over time."
The Time is Now
For schools looking to make the switch to LED technology, here are some tips to help ensure a successful transition:
• Conduct an Audit – There's no better way to secure the support of your administration than through a detailed analysis of your facility's consumption data.
• Do a Mock-Up – Once you've secured your team's support, sample the new lighting design by doing a mock-up with actual LED solutions proposed.
• Capitalize on a Rebate – Litetronics proposals include all local utility rebate information and schools are encouraged to investigate the availability of these incentives with their own utility.
• Conduct the Upgrade – Whether performed by a qualified outside contractor or your own in-house maintenance team, LED upgrades can be done after school hours, on weekends or during the summer to minimize disruptions.
• Consider the Capital Options – Schools that are unable to fund the cost of a system-wide lighting upgrade should consider doing one facility or even just part of a facility at a time.
Jim Ouellette is the regional vice president of sales, South, for Litetronics and can be reached at jouellette@litetronics.com. Ryan Berlin is the managing partner of Blythewood, S.C.-based S.L. Hulett & Associates, a manufacturer's representative that represents the Litetronics line of lighting products, and can be reached at ryan@slhulett.com.