Science Center at North Park University Earns LEED Gold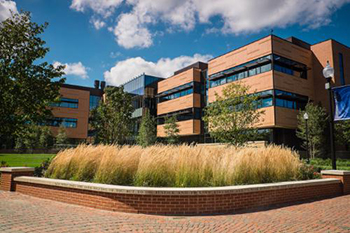 CHICAGO — The $45 million Johnson Center for Science and Community Life at North Park University in Chicago was recently awarded LEED Gold certification by the U.S. Green Building Council (USGBC).
The $45 million facility opened in September 2014. Designed by Chicago-based VOA Associates and built by W.B. Olson, also based in Chicago, the building incorporates several sustainable features that help to minimize waste, reduce toxins, lower potential energy bills and operating costs, and achieve healthier indoor air quality.
"We are very pleased to have been awarded LEED Gold," said David Parkyn, president of North Park University, in a statement. "The building is not only esthetically beautiful, but also functions efficiently and plays an important environmental role. That's especially rewarding on our urban campus, and consistent with North Park's mission as a Christian institution and stewards of the environment."
Throughout the design process various stakeholders, which included scientists, faculty, staff and administrators, and students, gave input to the architectural team for the design of a building that would create a space for all students, optimize outdoor space and daylight, as well as meet sustainability goals.
Some of the sustainable features of the Johnson Center include: reducing heat island effect with green roofs and high albedo hardscapes; promoting alternative transportation methods; promoting ongoing building recycling; incorporating recycled and regional materials; promoting healthy indoor environment via low emitting materials. Sustainable design and construction of the Johnson Center also means increased air filtration, increased air ventilation; and occupant comfort is increased via thermal comfort measures and lighting controls. Additionally, the building produces 30 percent water savings, 26 percent energy savings, and 75 percent waste diverted, compared to other educational facilities.
"LEED Gold is an outstanding accomplishment and shows North Park University's commitment to the environment," said Susan Heinking, vice president and sustainability leader at VOA Associates. Heinking's role was to facilitate the sustainable design throughout the design and construction process. "Each element — from the external shades on the facade allowing daylight in while blocking out heat gain, to the green roof that reduces building stormwater run-off — was selected to meet sustainability requirements," Heinking said in a statement.
The Johnson Center also features advanced technology in the classrooms and laboratories, including lecture-capture capabilities, real-time sharing of data for collaboration and group activity, HDTV interactive SmartPodiums, and wireless airplay from iPads. Every lab is ADA compliant for wheelchair accessibility, and the building features more than $850,000 in state-of-the-art science equipment. Laboratories were designed for many disciplines of study including molecular genetics, zoology, microscopy, laser spectroscopy, and anatomy—with a cadaver lab.
The new equipment and facility have allowed the University to transform the lab management program, making it "safe and environmentally responsible," said Dr. Jon Rienstra-Kiracofe, professor and chair of the chemistry department, who was lead faculty liaison for the Johnson Center design charrettes. These charrettes provided input to the building design from North Park University faculty, staff, students, and board members. Rienstra-Kiracofe teaches a class in environmental chemistry utilizing some of the building-specific LEED technology.