Sprawling Urban Park Revitalizes Dallas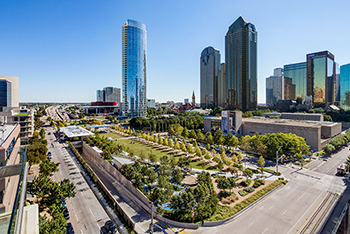 DALLAS — When the Woodall Rodgers Freeway was built in the '60s, it dissected the heart of Dallas, dividing uptown from downtown.
However, the recessed freeway also created an opportunity to revitalize the point connecting uptown and downtown. In 2002, the real estate community proposed a sprawling urban park that would offer a pedestrian-friendly environment that is also sustainable and eco-friendly — for both a 5.2 acre park and the freeway tunnel that was built below. Two years after its completion in 2012, Klyde Warren Park earned LEED Gold certification in summer 2014 and, in October, won the Urban Space Award from the Urban Land Institute in Washington, D.C. The Urban Open Space Award recognizes public spaces that have socially and economically enriched and revitalized their communities.
"We had a unique opportunity to create something from nothing," said Tara Green, the park's president. "We wanted to be environmentally friendly. We wanted to reduce the heat island effect and we wanted to use whatever resources, whether that may be energy savings through solar energy or water conservation."
The $110 million project produced an urban green space that attracts more than 1 million visitors and hosts more than 1,000 events and programs annually. Being in Dallas, shade is essential, and the park has more than 300 trees. Landscape architect Jim Burnett, principal at Houston-based The Office of James Burnett, incorporated 37 native plant species that are drought-resistant and self-sustaining.
Water conservation is a huge part of the park's sustainability initiative. The park includes low-flow water fixtures, resulting in a 40 percent reduction in potable water use., Its irrigation system combines both drip and spray technology, saving 192,000 gallons of water annually. Additionally, its hundreds of trees are able to sequester 18,500 pounds of carbon dioxide and intercept nearly 23,466 gallons of storm water run-off annually.
"We have a lot of water features in the park, but we recycle, reclaim and reuse water, so we're not taxing the water system," Green said. "We have a membrane under the turf that reclaims stormwater, and it recycles and reuses it. We also have a triple filtration system to clean water, which is continuously pumping through the park."
A second innovative feature to the project is what lies below it. A 1,200-foot-long tunnel opens up the Woodall Rodgers Freeway underneath the park's deck. It was important to the City of Dallas to carry over the effort to conserve energy within the tunnel as well as the park. Lighting features played a vital role in helping with that effort. The city turned to Jacobs Engineering Group of Pasadena, Calif., to direct the structural and electrical design.
Using lighting products from Kenall Manufacturing of Kenosha, Wis., engineers designed a tunnel that could facilitate heavy traffic through Dallas as well as provide the energy efficiency the city desired. Engineers chose induction fluorescents and metal halide fixtures, another efficient product comparable to LED, to line the sides and top of the tunnel.
"We looked at both LED and induction fluorescents. Induction fluorescent is a much more dependable system. It has a 100,000-hour-life and Kenall helped us pick that system," said Randy Walker, director of electrical engineering in Jacob Engineering Group's Dallas office. "We also had a height limitation because there is a minimum height at 12-foot-6-inches for trucks to come under the tunnel, so the fixtures had to be skinny and short. By going with the induction fluorescents, you have an initial cost savings of not having to install lighting inverters."
Other companies that helped shape the park include Bjerke Management Solutions of Allen, Texas, which managed the design and construction; Chicago-based Archer Western was the contractor for the construction of the park's deck plaza; and McCarthy Building Companies of St. Louis served as the contractor to construct amenities and complete the park.