Solar PV System Installed at CU-Boulder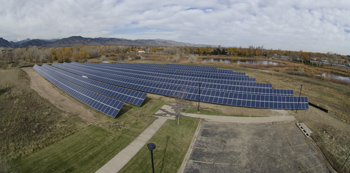 BOULDER, Colo. — In January, Panasonic Eco Solutions North America completed the installation of a 500 kW solar photovoltaic power generation system at the University of Colorado Boulder (CU-Boulder). The system was developed and built by Panasonic, with local support from Lighthouse Solar.
The system is estimated to provide enough energy to support approximately 100 average homes (about 850,000 kWh per year). It helps meet the university's short-term goals of powering the campus with green energy, while reducing energy usage and costs. It will also allow the university to fulfill part of its long-term goal of becoming a carbon-neutral campus.
Financing of the system was provided by a subsidiary of Renewable Social Benefits Funds, which partners with Panasonic to finance distributed generation solar projects across the United States.
"CU-Boulder has a long history of resource conservation and sustainability focus. On-site renewable energy supports our ongoing goal of Green House Gas reduction from our campus operation," said Moe Tabrizi, campus engineering & sustainability. "It is especially desired when we can take advantage of local and federal renewable credits and incentives to create favorable financing for the project."
The solar installation is located on the university's East Campus, within the 220-acre CU Research Park, which includes the university's Laboratory for Atmospheric and Space Physics, Center for Astrophysics and Space Astronomy and the Jennie Smoly Caruthers Biotechnology Building. It will power these facilities as well as other buildings throughout the campus.
The project also provides research opportunities for students studying renewable energy. "A solar farm offers our students learning opportunities in regards to state and national renewable energy policy and the technical aspect of solar PV power generation, as well as project financing strategies for renewable energy," Tabrizi said.
Construction began on the ground-mounted system in September 2012. One of the biggest challenges for the construction team was space constraint due to the topography of the area and the university's future building plans, according to Lisa Lahman, project manager for Lighthouse Solar.
She also said, "working with a university has unique considerations. First, there are higher aesthetic standards than most commercial buildings. Second, a college campus is in constant motion, even during the summer months. Building an additional power source and connecting it to an existing building without disrupting daily activity or existing building architecture was a challenge. However, the construction impact on the campus was kept minimal, and the equipment was designed to blend in with the existing equipment at the building."
Despite the challenges, the Boulder community — well known for its eco-conscious efforts — is very supportive of the highly visible project. "During construction, many people stopped by to check things out. Everyone was excited to see more clean energy moving into town," Lahman said. "The response from the community has been inspiring, and we are proud to be a part of a project that showcases the benefits of solar power on such a high-profile stage."