Hawaii Begins First Net-Zero High School Project in Maui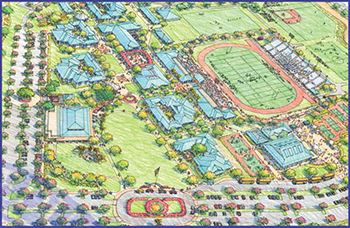 MAUI, Hawaii — Work began on Maui's Kihei High School on Jan. 11 after decades of petitioning and planning, according to Maui Now. The new high school will serve ninth- to 12th-grade students with an enrollment capacity of approximately 1,650 students and 206 staff and faculty.
Efforts to build the new school have been underway since the early 1990s. Representative Kaniela Ing, D-South Maui, told Maui Now that the facility will be more than just a school, and will also serve the community by providing both a gymnasium and a stadium. He added that offering sports and activities would bring young people together and give them a better sense of belonging.
The project, which will cost an estimated $130 million, has already seen funding problems due to unforeseen fiscal challenges and administrative changes. "The scale of this project is an enormous," Rep. Ing told Maui Now. "Sometimes things happen that are out of your control, but all you can do is be transparent with the community, never get discouraged and keep moving forward. The important thing is it is happening now."
In 2014, when Gov. David Ing assumed office, his department chose to take a phased approach to the school's construction. The first phase of construction will be allotted $30 million to cover expenses related to groundwork, well construction and establishing an access road to the site. Additional funds, which will likely be allotted in the next legislative session, will be used to construct classrooms and administrative buildings. Depending on the final design and cost of materials, however, the project may not require the full $130 million allocation.
When complete, Kihei High School will be the first net-zero high school in Hawaii, according to Ing, and will be powered by clean and renewable energy sources. Ing told Maui Now that he believes this new high school will set an example for what other new schools should look like in the future.
If the project remains on schedule, the school will be completed in 2018.
This article was originally published on School Construction News.