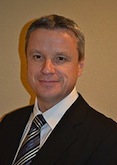 PIMA, the Polyisocyanurate Insulation Manufacturers Association, announced that Chris Griffin, Ph.D. and Technical Director of Johns Manville Roofing Systems, has assumed the chairmanship of the organization, replacing John Geary of Firestone Building Products who served as the PIMA chairman for the last two years.
Griffin brings more than 20 years of experience in the aerospace and roofing industries, along with much understanding of the polyiso insulation industry, and extensive experience in product development and research.
Previously, Griffin worked on programs related to aerospace research and development for 3M in Minnesota, where he became technical manager of the Roofing Granules Division. He later served as the manager of research and development and product development for 3M's specialty optical fiber business. A materials scientist by training, Griffin earned his Bachelor of Science and Doctorate of Philosophy degrees from Imperial College in London. Griffin currently acts as technical director of the roofing business and business leader for Asphalt Roofing and boards & insulations for Johns Manville Roofing Systems.