Retrofitting Brings Energy-Efficient HVAC to Campbell Junior High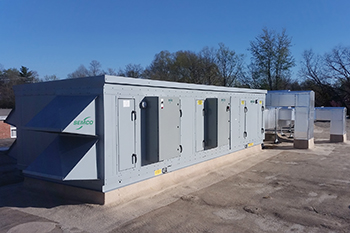 WINCHESTER, Ky. — Before Robert D. Campbell Junior High School's HVAC system was retrofitted with controllable chilled beam pump modules (CCBPM) in late 2015, the school used ventilators to cool the facility and waited long periods of time for the building's temperature to change.
Now, one year later, the school is using CCBPMs and dedicated outdoor air systems (DOAS), installed by Indianapolis-based Performance Services Inc. (PSI) and manufactured by Port Huron, Mich.-based SEMCO, to cool and heat the building while saving $33,000 annually as a result. This is the first year where the school has seen a return on their investment.
Campbell Junior High is the world's first building to use controllable chilled beam pump modules (CCBPM), according to a statement from SEMCO.
CCBPMs are designed to shorten the time it takes to heat or cool the building because its control is based on outdoor dew point, not temperature, according to a statement. It also has three times the life expectancy of traditional HVAC technology.
The switch from traditional HVAC technology to CCBPM and DOAS saved the school district $147,000 in labor installation costs. Overtime, the energy savings will lower capital dollars spent on the project by $500,000, which is guaranteed by a performance contract with the Lexington, Ky., branch of PSI, according to a statement.
The project cost Clark County Public Schools $599,000, however, working with PSI allowed Campbell Junior High to reuse of all of the existing two-pipe loops piping, the pumps and the relatively new replacement chiller and boiler installed in 1990.
"The two-pipe conventional unit ventilators that preceded the retrofit were noticeably loud and distracting, whereas now I walk into classrooms with the chilled beams and I can't hear any sound from the HVAC system," said Clark County School District Superintendent Paul Christy in a statement.
Once the first phase of the project was completed in September 2015, the junior high school's attendance numbers increased. Christy partially attributes this to the comfortable learning environment created by energy-efficient HVAC system.