Starting Small with Energy Projects Yields Big Results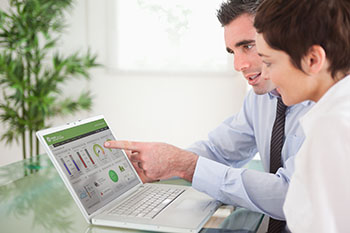 Improving energy efficiency in your building doesn't require a huge investment. Even small building energy management projects can yield big results.
This idea can be especially helpful for facilities that face shifting expectations and challenges, like the health care industry. Ever-changing regulations, budget constraints and competition for capital are key considerations for health care institutions. As a result, there is increasing pressure to make sure sustainable facility investments are made.
It is important to implement building management solutions that result in improved facility performance while also keeping patient and occupant comfort, as well as regulatory standards, at the forefront.
Building-to-Business Results are Important
The concept of "population health" is becoming increasingly common in health care. The term refers to a model of improving the overall health of the entire population based on a variety of factors and measurements. In health care management, this brings a shift from the previous disease-management oriented approach to a more holistic, proactive approach to patient care. The health care facility is a vital aspect to this approach.
A recent hospital construction survey showed that 68 percent of management sees a direct connection between the capital investments in their facility and the mission of their business. In addition, 86 percent of respondents said the impact of patient satisfaction on design is "very important," while 72 percent said they are interested in knowing more about trends in energy management.
When it comes to addressing expenses, energy management is one area for health care facility managers to consider. A survey of annual energy costs in 2011 of acute care hospitals showed that 28 percent of facilities averaged costs of $3.01 to $4.00 per square foot, while 21 percent of facilities averaged costs of $4.01 to $5.00 per square foot. Another 11 percent of facilities had average costs of $5.01 to $6.00 per square foot.
Finding energy management solutions that can help reduce costs is a priority for many health care facility managers. The majority of facility managers also say their upper management does see a connection between capital investments in the building and the mission of the business.
Small Projects with Big Impact
While some organizations have the internal skillset and staffing resources to implement energy management projects, others prefer to partner with a third-party provider that can offer expertise to help set goals, implement improvements and validate results.
In one real-world example, a large healthcare system in Florida partnered with Trane to complete improvement projects. The healthcare system installed wireless communication technology for its building controls to improve flexibility and reliability in performance.
When the initial request to install wireless technology was denied, the health care system started small by first introducing wireless technology in the nonclinical environment of a medical administration building, to ensure that the technology would reliably coexist with other critical wireless solutions.
After that test proved successful, as evaluated by a multi-disciplinary group at the facility, the project was expanded and wireless technology was installed in the hospital and acute care facilities, as well. In collaboration with the system's IT department, the testing validated the benefits of wireless and reliable coexistence with other technologies and reduced energy usage.
Utilizing wireless communication technology for building controls adds flexibility and increased data analytics capabilities for future changes, which is important as many health care facilities look to change their building layout to better serve customers.

Jeff Light, FACHE, is the director of strategy and business development for Trane Building Advantage.