Rachlin Partners Creates STEM Acronym for Design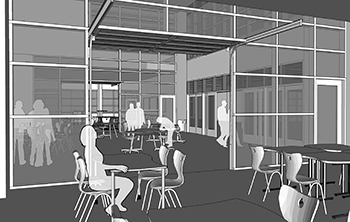 CULVER CITY, Calif. — Rachlin Partners, an architecture firm based in Culver City, is helping transform the traditional school model into a 21st century learning space, where teachers and staff can advance the ideas of collaboration and project-based learning.
Rachlin's school design concepts emerged from the latest direction in educational curricula abbreviated as STEM (Science, Technology, Engineering and Math). Under the direction of the firm's founding partner, Michael Rachlin, AIA, LEED AP, the firm created its own architectural acronym for STEM — Sustainable, Transparent, Exploratory and Malleable — to guide its designs. Here are some of the design mandates Rachlin Partners considers essential under STEM:
SUSTAINABLE: Ample daylight in teaching spaces is proven to help students with morale and learning behaviors. A study by Heschong Mahone Group of Gold River, Calif., revealed that "students with the best daylighting in the study progressed 20 percent faster on math tests and 26 percent on reading tests in one year than students with the worst daylighting." In addition to daylighting, contemporary schools use a variety of sustainable design strategies to realize their commitment to the future. Key elements include charging stations for electric vehicles, low-impact development to mitigate storm-drain runoff, among many other uses, and environmentally conscious materials. These methods not only help schools become energy efficient, which lowers utility costs and reduces waste, but also serve to educate students about the importance of green living.
TRANSPARENT: Transparency between teaching spaces facilitates greater collaboration and encourages interdisciplinary learning. Rachlin Partners' STEM concept proposes large, expansive areas of glazing so students can view what is going on in other classrooms. This extends the learning process to even a casual observer and makes activities in other classrooms less mysterious. In addition, the classrooms of the future have large, glass garage doors that open to outdoor terraces and blur the boundary between indoor and outdoor learning spaces.
EXPLORATORY: Forget the traditional row of seats with a teacher lecturing at the front of the room. A collaborative space is a key element in schools today that supports a variety of uses for multiple zone activities — from large group presentations and project-based work at the larger tables to individual work at the laptop "media bar." The collaborative space is designed to encourage students to interact with one another. Its flexibility creates the opportunity for gathering, study groups and project exhibits for each small group learning community. The result is open classrooms that encourage participation, movement, inspiration, focus and comfort. The focus is not only on indoor spaces, however, but also on creating outdoor learning spaces. An example is the creation of a solar panel garden that invites students to explore nature and the universe.
MALLEABLE: The school of the 21st century is built with an environment that works for decades, instead of years, to come. Classrooms can be combined with retractable folding doors that open up to create a larger space. Flexibility within the design allows for classrooms and labs to have direct connections to "learning terraces" so that big and messy projects can move outdoors. Some other key components include moveable white-board walls in between classrooms to allow for changing needs in a classroom setting and incorporating adaptable furnishings or easily movable furniture to allow for easy classroom transformation for group breakout sessions and more.

This article was originally published on School Construction News.