Wyndham Headquarters Becomes N.J.'s Most Energy-Efficient Building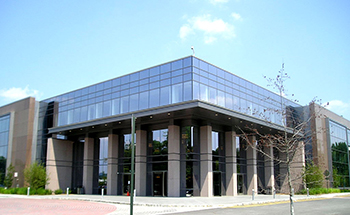 PARSIPPANY, N.J. — The corporate headquarters of hospitality giant Wyndham Worldwide in Parsippany earned 99 out of 100 points from the U.S. Environmental Protection Agency's Energy Star rating. This rating makes the facility New Jersey's most energy-efficient office building for 2015, according to a statement from Wyndham Worldwide. The building is also the highest-ranked building in New Jersey for 2015.
The near perfect score places the Wyndham corporate office among the top 3 percent of the most energy-efficient buildings in the nation. "At Wyndham Worldwide, we're consistently developing eco-friendly initiatives across our businesses," said Frank Campana, senior vice president, corporate real estate and facilities, in a statement. "We are committed to exploring and implementing innovative environmental practices not only for our hospitality portfolio, but also for our corporate offices, as this effort reduces costs, fosters the efficient use of resources and supports profitability."
To earn EPA Energy Star certification, Wyndham Worldwide improved its energy performance by making cost-effective improvements to the building and managing energy across the entire organization. Buildings that earn Energy Star certification use an average of 35 percent less energy than standard buildings and also release 35 percent less carbon dioxide. Wyndham announced that its efforts have been successful as the company reached its carbon emissions goal six years earlier than anticipated. In total, the company achieved a 20 percent reduction in carbon emissions, according to a statement, which surpassed the goal of a 20 percent reduction by 2020. With this achievement under its belt, Wyndham Worldwide now hopes to reduce carbon emissions by 25 percent by 2025.
Energy usage is tracked through an online tool used by the EPA. To make sure energy usage was at the level it needed to be, Wyndham Worldwide upgraded both its lighting systems and overall operations, according to a statement. The company operates 100 percent on wind power purchased from an outside party. It has installed Energy Star-certified equipment, including televisions and cooking equipment. The building also underwent a major LED lighting retrofit with upgraded lights in the parking lots, open spaces, dining rooms and other areas. Motion sensors were installed to control multiple light fixtures. Lastly, the building uses technology to collect usage data and track operating efficiency.
Wyndham Worldwide has made many efforts to become an energy-efficient company and an innovative place to work for employees. TransOptions, a nonprofit transporation group servicing Northern New Jersey, also named Wyndham one of New Jersey's Smart Workplaces for its alternative transportation options for employees. Wyndham Worldwide has implemented a program that promotes commuting alternatives such as riding buses and trains, which allows employees to avoid traffic while also helping reduce carbon emissions, according to a statement.
The company also focuses its investment involvement on social and economic markets, which is part of itsCorporate Social Responsibility strategy. Wyndham Worldwide has focused its investments in areas such as sustainability, diversity, human rights, wellness and philanthropy.