Rhode Island Bridge Retrofits with LED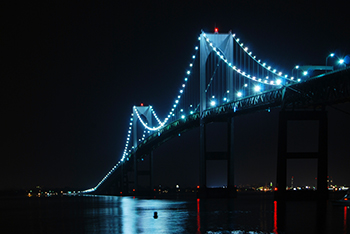 NEWPORT, R.I. — The Claiborne Pell Bridge, known commonly as the Newport Bridge, in Newport recently retrofitted its antiquated lighting systems with state-of-the-art, high efficiency LED lighting.
The bridge has lit the night sky across the east side of Narragansett Bay since the late 1960s. Energy Source, a Rhode Island firm, helped complete the project.
The completion of the project enhances the lighting quality for drivers on the bridge and the scenic appeal for Newport residents, tourists and those passing through. It also helps with the operational efficiency of the Rhode Island Turnpike and Bridge Authority, which is now able to save hundreds of thousands of kilowatt hours annually.
Michael Lemoi took the lead on the Newport Bridge project, working closely with turnpike and bridge authority officials to design, plan and execute the project.
"We were honored to be chosen to partner with the Turnpike and Bridge Authority. As a business headquartered in Rhode Island, it meant a lot to us to bring our energy efficiency technology to such a highly visible, iconic landmark. We have been part of many large scale initiatives in the public sector but it's not every day that one of our projects is also featured on our State's quarter. We are proud to have been part of it, we are very pleased with the aesthetics of the finished product and, of course, the energy savings it represents." Lemoi said in a statement.
In order to install the LED lighting, the first step in the project was to remove the inefficient metal halide lighting, which had been in place for decades on the bridge.
The switch to LED provides several key benefits for the town and utilities maintenance. It improves lighting aesthetics, allowing for a brighter more evenly dispersed light for safer driving. It also provides a much longer lamp life, requiring less frequent maintenance.
Energy Source anticipates that the biggest benefit will be the reduction in energy consumption. It's estimated that the project will save 321,000 kilowatt hours each year, which amounts to a savings of $43,000 annually.
There are more financial benefits for the switch to LED thanks to utility rebates from National Grid, a gas and utility company based in London that also does business in the northeastern part of the U.S. Energy Source expects the project to pay for itself within four years, based on the amount of rebates.
A similar project was done for the San Francisco-Oakland Bay Bridge this summer. Musco, based in Oskaloosa, Iowa partnered with Cree, based in Durham, N.C., to create a uniform light with glare control using compact fixtures. The bridge now features LED light fixtures along the bridge deck, tunnel entrance, and bike and pedestrian paths. The expected lifespan of the lighting is 15 years.