EAST VALLEY, Ariz. — Oldcastle Precast, a U.S.
Read more
FLORENCE, Colo. – Holcim's Portland cement plant recently started powering its operations with 528 solar panels, each of which are attached to Oldcastle Precast solar panel foundations.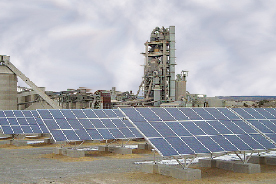 The panels will provide 156,000 kilowatt-hours of electricity per year to the Holcim plant. They are arranged in four units, with each unit accommodating 24 conventional solar panels made of polycrystalline silicone.
Read more