The Evolving Role of the Facility Manager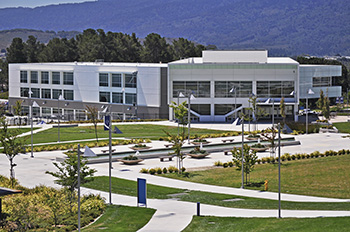 The role of the facility manager is quickly evolving from primarily maintaining buildings to playing a strategic part in helping an organization meet its operational goals. As facility plans become increasingly aligned with the strategic goals of an organization, facility managers are becoming more involved in discussions about funding for building management projects, especially when improving areas like energy efficiency.
Additionally, facilities professionals are shifting from a reactionary stance to a proactive position when managing building needs, using data analytics, cloud software and mobile/connected devices to better anticipate building needs and locate potential problems. Couple this with the emergence of IT, and facilities management is set to experience even more transformation in the coming years.
Green Building News spoke with Warren Rosebraugh, director of solution architects for Schneider Electric, and Joe Fullerton, energy and sustainability manager for San Mateo County Community College District, who both offered firsthand perspectives on the evolving role of the facility manager.
Q: Describe the evolving role of the facility manager and how it has changed in the last five to 10 years.
Fullerton: The history of facilities management is born out of this basic level that the function is to keep buildings up and running, to keep them comfortable and accessible. Only recently has energy and resource efficiency become more and more the responsibility of the facility manager. In the educational sector, there are relatively few and far between organizations that have energy efficiency and efficacy as their top operational priorities; although an increasing number are considering these factors in long-term planning. The traditional facilities manager fixes things by reacting and responding to a call, to take action as something has occurred. I call this whole process the reactive cycle. If they can't solve it, the problem gets escalated or de-escalated, and it can take an immense amount of time, resources and human capital. We can shorten the reactive cycle and even move it to be proactive. While we will probably never do away with reacting, a large portion of facility manager's time in the future can be saved (or repurposed) by using business tools to see issues before they become problems.
Rosebraugh: I work across a lot of different segments, specializing a lot in health care. Something that has changed is that technology has crossed from mechanical-type systems to becoming an IT environment. [The facility manager] is looking at IT cameras that are sitting on the overall building network with storage in the cloud and wireless sensors that are monitoring information throughout the building. This will only increase with the Internet-of-Things fast approaching. Data systems can be accessed by smart devices in the hands of these facility managers. It puts more and more pressure on the facility manager to understand more than in the past in terms of mechanical systems and IT infrastructure. If you look at the real estate industry, The Joint Commission in health care and real estate investment trusts have certain regulatory requirements for doing preventive maintenance that require the facility manager to be more than a mechanic and more like an IT or management person.
Q: What role does the facility manager currently play?
Fullerton: A typical facility manager is older and planning on retiring in the next couple years. Like many technical careers, there's also a gap at the other end in terms of pipeline of supply to fulfill future roles, and facility managers have to do more with less, figuring out how systems integrate and interface, what data comes out of the systems and how to interpret that data. To reduce the reactive cycle, facility managers have to appropriately designate how to use capital to make new investments and purchase new equipment.
Rosebraugh: In the past, a facility manager would have an office and login to a specific building management system. Today, you're talking about someone straight out of college who is used to smart devices and wants to have systems running on those devices. They expect to have wayfinding to find the location of certain pieces of equipment and expect to take a photo on the phone and get data sheets from those images. In the past a facility person would have to troubleshoot mechanical systems when issues arise based on a complaint or alarm, but today the expectation is that analytics warns of these specific issues before they become serious. From a Schneider Electric, perspective, we have to look at things differently, creating interfaces for Android devices, Apple devices as well as traditional Microsoft products. It's really changing and that's the expectation as younger professionals enter the field.
Q: How does the facility manager work with executive staff to secure funding for building management projects?

Fullerton: I can speak from personal experience. One of my primary roles is to translate information. I take boardroom information and I interpret it for our operational purposes. I take mechanical room data and information and analysis and move that into a boardroom decision. I take facilities management systems and turn those into customer points of service. More and more that's what facility managers are being asked or required to do. It's less about turning the wrench and wearing a tool belt and more about being an effective communicator and translator of knowledge.
One good example is that the exterior fixtures around our campus are pretty inefficient, and we could have simply replaced them. When we looked at them, we realized that we would have to repair some circuitry and perform other costly infrastructure work to achieve desired functionality and efficiency. When we started to look at LED with wireless controls, they were nearly twice the cost to install, but the value is not only energy savings but also operation and maintenance savings. LED is reported to last 15 to 20 years and is a much better light. You gain maintenance and operations efficiency over time and gain safety and security. Adding an integrated wireless control system that can control each individual fixture remotely required an understanding of the infrastructural issues that we might otherwise face. That kind of decision for the facility manager requires more in-depth analysis, but if you apply that knowledge and expertise, it helps the organization realize total cost of ownership savings. That's more what the facility manager will have to do.
Rosebraugh: It's also a lot about learning the terms that the board or upper management speaks and speaking in those terms when putting together a business plan. Also it is important to put real numbers to a request by looking at the building analytics, which allows the future value of these changes to be estimated. By looking at the data on the system, you can pick up problems and relay the message that if you don't fix it, here's what it's costing per day in energy. You can also look at it from a comfort level. Cost calculations and comfort alerts really helps building analytics show a quick Return-on-Investment.
Fullerton: It's also about shortening that reactive cycle and moving towards a proactive approach. If I know before a piece of equipment fails that it's causing trouble, costing me money and contributing to comfort issues, that makes me a more effective manager. I need to address it and plan accordingly. I'm thinking about investments that need to be made and why we should make them before [an issue] causes a chain reaction that is inordinately more expensive.
Q: What kind of training and facilities education is being implemented to develop the next generation of facility managers?
Fullerton: I work at a community college, so we focus a lot on vocational education and moving students onto four-year degrees. There's a growing effort and concern about who are the people to be stewarding the next generation of buildings and technologies. A lot of the technical training then needs to be focused on the technologies and tools of tomorrow. To be effective the training has to be interactive and available across multiple devices and aid students in effectively communicating the changes they want to see in operations, maintenance and facility planning. It's a really tough challenge that our next generation is going to face, and education is going to take the same type of innovation that we're applying to facility management. Likewise training facilities staff can only benefit from more innovative and evidence-based pedagogical practices.
Rosebraugh: Schneider Electric takes education very personally. We have developed online training called Energy University that was originally developed to train internal staff. Now, it is over 200 hours of facility infrastructure cross training on the Web that is offered to a lot of different organizations, including the American Society of Healthcare Engineers. This gives individuals the chance to train on areas they are not strong at like arc flash mitigation, retro commissioning or basic HVAC equipment.
Fullerton: As someone who has used Energy University, it's one important tool that we use to help increase our knowledge base and staying up-to-date on the newest technologies.