Oakland University Achieves First LEED Platinum Certification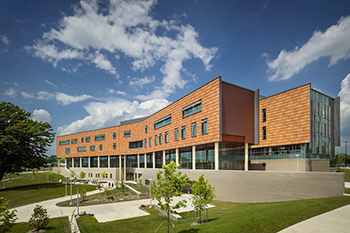 ROCHESTER, Mich. — The $64 million Human Health Building at Oakland University has become the first LEED Platinum building on the campus.
The five-story, 160,260-square-foot structure was designed to encourage cross-disciplinary collaboration, and offers hands-on instructional spaces similar to those found in hospitals and clinics. It is also a model of innovation, efficiency and sustainability and began recouping costs immediately. The design incorporated multiple green and money-saving features from a geothermal heating system to a network of 117 solar thermal panels, which supply the building with free natural heat. Energy-reducing insulated cinderblocks provide an estimated 35 percent energy savings annually, while the rooftop photovoltaic solar panels supply roughly 3 percent of the building's power.
The facility also offers an attractive and comfortable working and learning environment while strictly adhering to green guidelines. Structural overhangs created by upper floors offer natural shade and protection to the offices below and exterior spaces feature sunshades and fritted glass to minimize heat and glare. Floor to ceiling windows also provide views of the nearby wetlands and plentiful natural light. Low-flow plumbing fixtures, sealed cork flooring, bamboo cabinetry and energy-reducing daylight sensors are featured throughout.
Sustainability efforts continue outside where designers integrated multiple environmentally friendly features into the surrounding landscape. For example, a rainwater collection cistern routes moisture back into the nearby natural wetlands, where native trees and grasses have been reintroduced and invasive species cleared. A towering 100-year-old oak was purposely incorporated into the building's design and offers both a natural habitat for local wildlife and an outdoor gathering space for staff and students. LED lighting also illuminates roadways and parking areas, minimizing light pollution. Two dual electric charging stations are also available for electric and hybrid vehicles.
SmithGroupJJR of Detroit designed the Human Health Building and The Christman Company of Lansing, Mich., managed all construction. SmithGroupJJR in particular has long been a leader in green design. The Human Health Building marks the group's 90th LEED certified project and the 11th to meet LEED Platinum certification standards.
As the Human Health Building was developed specifically to house Oakland's School of Nursing and School of Health Sciences programs, SmithGroupJJR project leader Chris Purdy said evidence linking human health to environmental health made the structure an ideal fit. "Environmentally friendly buildings have shown to have positive effects on the quality of their occupants' health," Purdy said in a statement. "So, it was easy for the university to decide that the new Human Health Building should be highly sustainable."
Terry Stollsteimer, associate vice president of facilities management for the university, also saw great value in working with green building professionals. "The collaboration between Oakland University, SmithGroupJJR and The Christman Company truly benefitted our ability to design and build the most energy-efficient and sustainable building on any college campus in Michigan," Stollsteimer said in a statement.
Oakland University's Human Health Building was made possible by a $2.7 million grant from the U.S. Department of Energy. The State of Michigan legislature's Capital Outlay Fund provided an additional $40 million in construction funds. The new building opened in the fall of 2012 after a two-year construction process.