Environmental Systems Design Celebrates 50th Anniversary This Summer
By Rachel Leber
CHICAGO — Environmental Systems Design Inc. (ESD), a Chicago-based leader in the design of high-performance buildings and mission critical facilities, will celebrate its 50th anniversary in July. Founder Hem Gupta built the company from the ground up in July of 1967, and passed away earlier this year at the age of 85. His son, Raj Gupta, who has been running ESD for the past 20 years and served as CEO over the past six years, transitioned into the role of executive chairman on May 25 and named Zackery House as the company's new CEO.
Raj Gupta first joined ESD full time in 1984 when there were only two or three computers in the whole office, he explained. "We drew everything back then," he said. "Now, that has completely changed — the actual production of drawings has become commoditized since then. Now it's all about ideas, creativity and innovation, which is where we are really providing value for our clients."
Since 1967, ESD has grown to $50 million a year in revenue with close to 300 employees, and has worked in more than 30 states with offices in Chicago, Dallas, San Francisco and Abu Dhabi. Additionally, after a decades-long collaborative relationship with Adrian Smith + Gordon Gill Architecture (AS+GG) in Chicago, ESD and AS+GG's PositivEnergy Practice Studio decided to merge in August 2016.
ESD has become more specialized over the years, focusing on green buildings, taller buildings, mission critical buildings and data centers, and the company currently works with three of the top five technology companies in the world, according to Raj Gupta. "This means that we have less than 10 competitors globally. When we do net-zero projects, that number becomes even smaller. This means we need to be the best at what we do," said Raj Gupta.
One example of ESD's recent successes with regard to sustainability is the FKI Tower in Seoul, South Korea. This impressive and energy-efficient building was completed in 2014, and meets Seoul's requirement that all new, large-scale commercial buildings generate a minimum of 5 percent of their energy on site. The design team developed a strategy that would meet both requirements as well as reduce the amount of energy that the building used for its heating and cooling loads. The use of building-integrated photovoltaic panels (BIPV) was seen as an architecturally appealing way to meet the strict zoning requirement, while the optimization of the panels became a driving factor in developing the architectural design.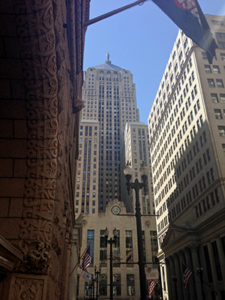 In addition, a new ESD-designed building called the Kingdom Tower is currently being constructed in Jeddah, Saudi Arabia. When completed, it will be the tallest building in the world, according to Raj Gupta. Some impressive sustainable features of this project include the orientation of the building in order to align the facades from the northeast and northwest to reduce the overall solar load. A vertical zoning approach to the tower's design distributes potentially high system pressures while supporting sustainable construction practices of system component standardization. Vertical zoning, combined with the design's effective infiltration control, also helps mitigate the properties of stack effect by reducing pressure differential and controlling the movement of air throughout the building. This tower will be a great example of how "super-tall" buildings can promote and advance sustainable design, according to Raj Gupta. This is just one of many sustainable projects by ESD, and is consistent with the continued success of the company since its early beginnings.
As for the future of ESD, Raj Gupta envisions the company embracing the industry transformation and being "out in front." "We are in the lead in terms of showing our clients what is possible," said Raj Gupta. "They need our help, and we want to be their trusted advisor."
Raj Gupta emphasized the importance of making every client transaction about the long-term, and developing relationships with clients over time. "This way of thinking as a business compliments my dad's approach and is a legacy I will continue for the long-term," he said.