CSU System Secures $171 Million in Bonds for Many LEED Buildings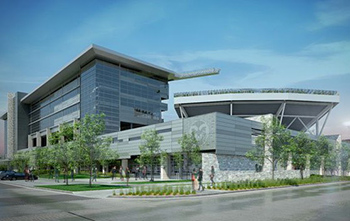 FORT COLLINS, Colo. — The Colorado State University (CSU) System secured more than $171 million in bond financing to support six construction projects that will transform the Fort Collins campus over the next few years. The bond package sold in less than four hours on Aug. 6.
The projects financed in the sale included a five-story, 152,000-square-foot biology building; a new 105,000-square-foot medical center; approximately 85,000 square feet of academic and alumni space; the relocation and construction of the new W.D. Holley Plant Environmental Research Center; a four-story, 640-space parking garage; and a new surface parking lot across from the Veterinary Teaching Hospital on Drake Road in Fort Collins that will add about 900 spaces.
"The financial strength and stability of the CSU System has allowed us to leverage the continuing favorable interest rate environment in the capital markets so we can move forward with a strategic effort to transform and revitalize the main campus of Colorado's only land-grant institution," said Richard Schweigert, chief financial officer of the CSU System, in a statement. "This financing package will allow CSU to meet the needs of a growing student body with world-class academic and research facilities as well as critical infrastructure to support students, faculty and staff."
The financing package also included Colorado's first Green Bonds associated with the new medical center, which is intended to achieve at least a LEED Silver certification level. CSU, ranked among the most environmentally sustainable schools in the country, currently has 20 buildings certified as LEED Gold or better. Green Bonds are a relatively new financial instrument that match investors with environmentally friendly projects.
The new medical center will house the CSU Health Network, which provides a wide range of health services to students and the Columbine Center for Healthy Aging and a University of Colorado Health primary care clinic. In addition to enhancing medical services provided to students and the community and bolstering heath care-related research capabilities at CSU, the new building will also serve as an important gateway to campus at one of Fort Collins' most high-profile intersections.
In March, the CSU System secured more than $239 million in financing from investors for a new stadium on the university's main campus. Bonds for the new stadium sold in less than 90 minutes, and certain series of bonds within the package were as much as three times oversubscribed. An official groundbreaking ceremony for the stadium — capacity now is listed as 41,000 and includes staring-room-only patrons — is scheduled for Sept. 12. Construction is scheduled to be completed in time for the 2017 football season. Kansas City, Mo.-based Populous is serving as the architect on the project.