The Bridge Building Breaks Record in Sustainability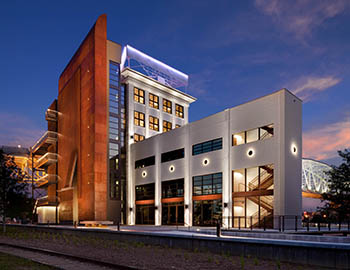 NASHVILLE, Tenn. — History and sustainability merged in a recent milestone for Nashville's Bridge Building, located along the east bank of the Cumberland River. The building achieved a score of 99 out of 110 points in the LEED Core & Shell standard, making it the highest rated building in the world in that category.
The Core & Shell standard looks at building elements with which developers have a certain level of control, such as exteriors, layout and mechanical systems within the building. The previous leader in the Core & Shell standard was the Dockside building in Victoria, British Columbia, which received a rating of 86 percent in 2009. The Bridge Building surpassed this with its rating of 90 percent.
The building has a fairly extensive history of construction and renovation. Originally designed by Arthur Dyer and constructed in 1908, it underwent additional construction in 1923, 1965 and 2011. Although it was one of the only buildings to withstand the demolition that occurred along the riverbank as a result of the football stadium construction in the 1990s, it was left in poor condition for many years.
In 2001, however, the Metropolitan Development and Housing Agency (MDHA) began an initiative to redevelop the riverfront, and The Bridge Building was renovated to meet modern building standards. The most recent period of construction lasted 17 months and was completed by locally based Hastings Architecture Associates' greenSTUDIO division. The total cost of the renovation was $6.5 million.
The 21,500-square-foot building today features extensive sustainable design features throughout its six floors. Hastings Architecture designed the building with two distinct components in mind. The first was to restore the original architecture of the building's two main structures. The second component was to restore a significant riverfront icon symbolizing the site's distinct history and promising a future of sustainability.
Hastings Architecture relied on the building's history to pave the path for its sustainable renovation. One such element involved designing the east side of the building to resemble a barge hull, which effectively reduces heat and glare from the sun. Other environmentally friendly features contributing to the building's record-breaking design include designated parking for efficient vehicles, strategic location near public transportation, tinted windows, efficient water sources, a solar hot water system, a geo-exchange HVAC system and reusing 173,000 gallons of water annually. The renovation involved reusing about 60 percent of the existing structure and diverting 92 percent of the waste created on site away from landfills. The construction team used environmentally friendly tools and materials, and landscaping elements featured native trees, grass and river stones that created natural habitats and mimicked the landscape's watershed.
The success of The Bridge Building's renovation bodes well for the future of sustainable design in Nashville. "This is a monumental step for Nashville toward the goal of being the greenest city in the Southeast," Nashville Mayor Karl Dean said in a press statement. "It is my hope that The Bridge Building will serve as a model for others building and renovating spaces in [the city]."
David Powell, principal of Hastings Architecture, added, "We believe that in responding to the Mayor's vision to create a beacon for sustainability, future developments in Nashville will now consider smarter solutions that otherwise would not have been part of the discourse. This project is full of solutions that are becoming commonplace as simply 'good design' while exploring innovative ideas that encourage the advancement of new strategies."
The Bridge Building stands as a symbol of historical integrity and the promise of sustainable design for future architectural endeavors. "A topic that is often overlooked in the 'sustainability' discussion is the importance of our past," Powell said. "By preserving the original building and sculpting a symbolic icon to house the necessary addition for new infrastructure, the project stands as a reminder how this portion of the city's heart played a crucial role in the industrialization and development of the metropolis in the 20th century."