UC Berkeley Completes Energy Biosciences Building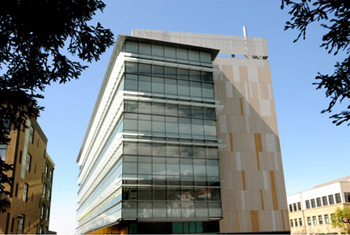 BERKELEY, Calif. — The University of California at Berkeley recently completed construction on its new Energy Biosciences Building. The $133 million structure's primary occupant is the Energy Biosciences Institute, a public-private entity that consists of a partnership between UC Berkeley, Lawrence Berkeley National Laboratory, University of Illinois at Urbana-Champaign and BP, the global oil and gas company.
The partnership is using $500 million of BP money, $350 million of which goes to the public institutions, to fund a ten-year research project focusing on cellulosic fuels and fossil fuel microbiology. Cellulosic fuels are biofuels made from non-edible plant matter like switch grass. Study of fossil fuel microbiology has led to new processes that use microorganisms to reduce the amount of energy needed to make biofuels.
The building also houses part of UC Berkeley's Department of Bioengineering. The structure features labs dedicated to studying fermentation and chemical separation, in addition to greenhouses, warm and cold rooms, and shared instrument rooms for conducting various tests.
The five-story, 113,200-square-foot structure was designed by SmithGroupJRR with Rudolph & Sletten serving as the general contractor. The building was designed with a flexible floor plan to accommodate the varied organizational systems used by the structure's occupants. Research spaces are aligned on one face of the building, with each room dedicated to a different specialized field of energy research. Each floor has two wet laboratories with 16 work bays per level. An equipment corridor runs down the middle of each floor, giving convenient support to the labs. Offices are aligned on the opposite wall from the labs, with views of the new Berkeley Way Plaza. Adjacent conference areas and kitchenettes complement an 80-seat auditorium.
The building lives up to its green focus, as it is targeting LEED Gold certification. A highly insulated cladding system forms the buildings envelope, with concrete panels reinforced by glass fiber, giving additional control of thermal and moisture conditions on the interior. The south and west sides of the building feature a glass curtainwall that allows daylight to penetrate deep into the areas dedicated to office space.
The ventilation for laboratories and fume hoods was specially designed to reduce energy use by nearly 40 percent compared to the industry standard. Automated window shades roll up and down in response to the structure's building management system. Corresponding lighting controls adjust the artificial light sources throughout the day as daylighting conditions change. All exterior windows feature high-performance insulated glass.
The curtainwall was augmented with an exterior shading system including two rows of translucent sunshades on each floor, installed at alternating depths of two and three feet to create an interlocking effect.
"The sunshades guard against direct sunlight and help to lower energy while also
reducing glare," said Suzanne Napier, design principal and leader of the
Science, Technology, Learning & Courts Studio at SmithGroupJJR's San
Francisco office.
The new plaza also provides a public green space and helps fulfill the city of Berkeley's goal for downtown renewal. The plaza restored a pedestrian connection for nearby Walnut Street and serves as a park.
The building was opened for public tours during UC Berkeley's homecoming weekend in early October and a formal dedication is scheduled later in December.