TD Ameritrade Calls New LEED Platinum Headquarters, Home
OMAHA, Neb. — The new headquarters for TD Ameritrade is set to earn high marks in energy efficiency by combining green building features that not only work for the building, but for the employees as well.
The 530,000-square-foot building will provide a new "pedestrian highway" for employees to move between offices quickly and eliminate the cross-town commutes that some employees frequently make. TD Ameritrade has five offices scattered around Omaha, so the new headquarters will give everyone in the company a central office.
"For years our associates have worked in multiple locations throughout the city, some of which has commute times of 20-30 minutes from location to location. This makes workplace collaboration challenging and inefficient," said company spokeswoman Kim Hillyer.
The employees will also enjoy an open lawn between the office space and a two-story pavilion featuring dining options, workout areas and seating areas, overlooking the building's vegetative "green roof." Ameritrade has approximately 6,000 employees and Omaha is the largest single location, with approximately 2,000 employees working in the area.
The project broke ground in the summer of 2010 and is slated for completion in spring 2013, according to Hillyer. St. Louis-based HOK Architects designed the new headquarters that is reported to cost approximately $135 million, according to building permits taken out to-date.
Being energy-efficient isn't just about saving costs on electricity, although it certainly helps raise the eyebrows of big businesses pondering construction of their headquarters. Those at Ameritrade wanted their headquarters to reflect something more than just cost-savings; they wanted to be an example to their employees and community that going green is possible and beneficial on many levels.
"We want to be a good corporate citizen. We recognize that as a large employer, we use a lot of resources. By creating a greener working environment for our associates, we limit our carbon footprint and decrease our operation expenses over time," Hillyer said. "We are currently estimating 48-49 percent energy savings for the new structure, making the building half as expense to operate as another building of similar size and age."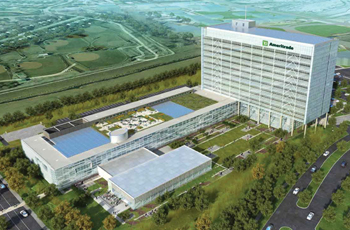 The new headquarters is located in an area of Omaha known as Old Mill, which is in the geographic center of the city. The building will be in a significant location to serve as a focal point for many living or visiting the city.
"We want this to be a sustainability icon for our region," said Del Reibold, TD Ameritrade's construction manager in a statement.
Some energy-efficient features include the use of natural lighting, solar panel installations, wind turbines, eco-friendly flooring material, and recycled building materials including the building's vented insulation made of recycled denim.
"We also have capabilities in place to harvest wind energy to power lights in our parking structure, collect rain water to flush toilets and collect runoff to fuel irrigation of our green spaces," said Hillyer. "In addition, all workspaces will have access to natural light and will be equipped with individual fan controls, allowing associates to control the flow of heating and cooling air coming into their workplace."