Rooftop Gardens: Ecology, Food, and Learning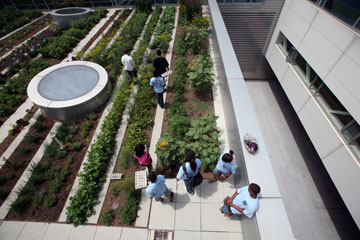 When they began resurging in popularity a few years ago, roof gardens tended to be used for aesthetic purposes, or perhaps to increase the usable square footage of a building. But recently such roofs — which can sport anything from grass to trees to agricultural crops — have emerged as tools for children's education and serving the community.
At the Gary Comer Youth Center, located on Chicago's Southside, and the Family Scholar House in Louisville, Ky., the roof gardens — installed by Chicago roofing developer American Hydrotech — are being used to educate children, keep them off the street, lift them out of poverty and give them a second chance at life by growing produce.
"One of the things we have been finding is that food production is becoming the hottest area for green roof use," says Dennis Yanez, national marketing manager at American Hydrotech.
The Comer Youth Center installed its 8,000-square-foot rooftop garden five years ago to educate and engage the area's youth. Thirty-eight children aged 13 to 18 participate in various programs based around the rooftop garden, growing, harvesting, cooking and selling an array of produce, including
mustard greens, spinach specialty lettuces, potatoes, sweet potatoes, pumpkins, tomatoes, peppers, cucumbers, kale, Swiss chard, edible flowers and herbs. And because the garden is organic, they also grow cover crops such as clover, rye and oats.
Marjorie Hess, Comer's garden manager, has developed and implemented several educational programs around the center's roof garden. The Seed to Table Program teaches participants how to plant seeds, maintain the plants and harvest the produce, while the Culinary Program focuses on various facets of preparing the garden's produce — the kids harvest the crops and take them directly downstairs to the center's kitchen where they're taught to prepare healthy meals. A culinary demo is offered to the public where they can learn to prepare a dish utilizing the produce and taste the results, and a farmer's market is offered during the summers. The garden yielded 1,000 pounds of produce last year and hopes to double that figure this year.
The Culinary Program also operates Comer Rooftop Crops, in which kids sell the produce from the roof garden to Chicago restaurants. World-renowned chefs such Rick Bayless of Frontera, and Oprah's former chef, Art Smith of Table 52, buy regularly from Comer. The West Town Tavern and The Hop Leaf are also faithful customers.
Comer's Green Teen program takes the center's mission a step further by offering apprenticeship and internship programs as a stepping-stone to a career. The programs' successes are tangible.
"This summer our teenagers were here 20 hours a week and attendance rates were well into 90 percent all summer long," says Hess. "That spoke to their level of involvement."
Two Comer roof garden program alumni are now attending culinary school and in the coming year the center plans to secure externships in restaurants and other venues for its participants.
Recently, the center brought in a speaker from the Department of Agriculture who works on international agricultural issues.
"It's fascinating for our young people to hear how they can travel the world doing what they learned at the center." says Hess, who leads the teaching on all the garden programs.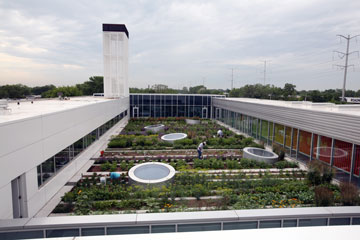 Comer's roof garden is an Intensive roof,
which usually consist of hard and soft landscaping. A drainage and retention layer sits underneath the garden itself to assist in the irrigation of plants but this type of roof requires the installation of a separate irrigation system in tandem with the garden roof.
The Intensive roof sports a soil depth of 18 to 24 inches. While the depth of Intensive roofs are traditionally used for adding parkland rather than for agriculture, Yanez at American Hydrotech says Comer went with the deeper roof because it was not initially sure what crops it wanted to plant. The Intensive roof gives the kids the advantage of being able to plant virtually any type of crop they can fathom, augmenting the educational abilities of its garden programs.
The Family Scholar House works with "families that are homeless, fleeing domestic violence and living far below the poverty line," says Cathe Dykstra, president and CEO of the Louisville nonprofit. The Scholar House allows provides housing and onsite daycare to single parents while helping them earn a college degree.
The Scholar House supports 56 parents and over 200 children. Most of the children involved in the organization's Early Learning Campus program are between the ages of two and six, but range all the way up to 18.
The Early Learning Campus uses its two-year-old roof garden in several capacities — produce from the garden, such as turnips, beets, eggplant, squash, tomatoes and cucumbers — supplements the families' food stamps and other food sources. The group's chefs recently taught the children how to make salsa, "which they are eating their weight in," says Dykstra.
The children grow, weed, harvest, cook and eat the produce.
"They love it," Dykstra says of the children's enthusiasm toward the roof garden programs. They recently completed an art project in which they made mosaic stepping stones to get to parts of the garden that are difficult to reach.
Scholar House's roof garden also supports the Family Nutrition and Wellness program, which offers cooking classes for children as young as six, teaching them to make a variety of rollups with the garden produce and imbuing age-appropriate safety tips like spreading peanut butter on celery with the back of a spoon instead of with a knife. Healthy exercise and healthy living skills are also taught.
"They learn about getting enough exercise, getting enough water, which the teachers equate to how much water the plants need," says Dykstra. "They are coming up with very creative ways for relating it back to the children."
Dykstra extols the benefits of roof gardens in childhood health and education. "They would never have tried these vegetables otherwise — their mothers don't have the money to buy them — but [through the roof garden programs] they've tried them," she says. "They say you need do something seven times before it becomes a habit. Well, we are well on our way to seven."
A garden roof's contribution to a nonprofit's ability to serve the community in a sustainable manner is indispensable, Dykstra adds. "It is uncommon for nonprofits to do things like this but it benefits the community and cuts costs," she says. "It is a forward-thinking, long-term, practical way to provide programs and services for the population we serve."
The Family Scholar House roof garden is an eight-inch deep Extensive roof, going beyond an Extensive roof's typical depth. "They are intended for recreational, sporting and leisure purposes and are often indistinguishable from natural gardens in appearance," according to American Hydrotech. The drainage layer is filled with expanded aggregate to allow for water storage and support a greater depth of growing media.
American Hydrotech uses light topsoil on its garden roofs, which comes in various blends depending on what a client wants to plant. "It is very low in organic material," says Yanez. "Organic material clumps up and weight is a big concern on a roof so we want the soil to be lightweight so it can drain." The soil also boasts a high mineral content, eliminating the need for fertilizer.
The roof garden trend is catching on in purely practical ways as well. Municipalities throughout the country have begun offering incentives to developers to install the roofs. Just one such incentive is allowing developers to add an extra floor to their buildings in exchange for installing a green roof. "There are various incentives like that across the country," says Yanez.
The U.S. Green Building Council offers a storm water management credit for installing a garden roof.
Green roofs also contribute 14 points toward LEED status. In addition to the storm water management credit, developers can earn credits for landscape and exterior design to reduce heat islands and for the use of recycled content.
Another practical use seeing an increase in garden roofs is storm water runoff reduction. These roofs can reduce runoff by 50 to 90 percent, minimizing the impact on a city's sewerage system. Chicago Mayor Richard Daley has emerged as an enthusiastic proponent of garden roof installation in the city for this very reason, says Yanez. Without their runoff reduction capabilities, storm water overflow in to Lake Michigan "taxes his infrastructure," Yanez says.
Garden roofs also have other benefits, Yanez says. He's observed a growing trend in using garden roofs to aid in patient recovery in hospitals by designing them as "healing gardens" complete with waterfalls and flowing streams. They also exert an ecological influence by cooling and humidifying a city's air.
"Roof surfaces absorb heat in the day and release it at night," says Yanez. "[As a result] we have a different microclimate, so [roof gardens] contribute to mitigating the urban heat island."
"They have definitely gained in popularity and recognition," adds Yanez. "It is on their radar screen, and it wasn't a few years ago."