One North Development Raises Sustainability Bar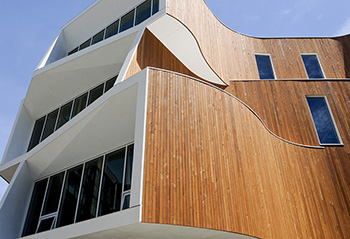 PORTLAND, Ore. — The One North development in Portland is raising the bar for green build-ing by creating its own sustainability template that exceeds industry standards.
Construction on the uber-green commercial building started in June 2014 and is on target to be completed by this November. R&H Construction is serving as the general contractor on the pro-ject and Holst Architecture is the architect, while Froelich Engineers is the structural engineer and McKinstry is the mechanical, electrical & plumbing engineer. All four companies are based locally.
The One North development is the vision of Karuna Properties II Owner Eric Lemelson, who has been a leader in Oregon's sustainability movement. As such, the project has a strong commitment to environmental and community impact.
"One North's private developer envisioned a different kind of project in One North — one that employed ethical, sustainable and efficiency standards far above industry requirements or current standards," said Adam Petersen, project manager for R&H Construction. "One North will serve not only as a community-centric space for the surrounding neighborhood, but also as a case study for approaching commercial buildings in the future."
The building features distinct curves and apertures that make it standout visually as well as allow sunlight and shade to be optimized for the lighting and temperature, saving energy and enhancing comfort levels for occupants. Minneapolis-based RadiusTrack, an advanced cold-formed steel-framing specialty firm, helped create the architectural curves using a prefabricated system that is about 60 percent lighter than typical red iron framing and reduces structural loads as well as waste, time and cost.
Another key sustainability element for the project was the cedar siding that wraps around the exterior of both East and West buildings. The siding, made from second-growth western red cedar, was sourced from a co-op of private landowners in Western Washington who manage their forestlands sustainably and were willing to work on a custom specification for the building's siding. In other words, the project team essentially handpicked the trees that would be used for the development. Lemelson specifically chose second-growth rather than old-growth trees, despite the significant additional cost, because of the negative environmental impacts of using old-growth cedar, a rare species in the Pacific Northwest.
While the cedar siding is one of the project's biggest sustainability elements, it has also been one of its biggest challenges. Petersen noted that it was difficult to source the cedar siding to meet the developer's standards. "Typically, lumber is sourced in mass from one producer, with little to no knowledge of where it's from and how it's farmed, but R&H's team was committed to realizing the developer's vision and engaged with the co-op of private landowners in Western Washing-ton," he said.
Additional sustainable features on the project include solar on both buildings, on-site stormwater infiltration and expansive wall sections for minimal thermal loss. Although One North will not pursue any official certification, the building efficiencies were inspired by passive house guide-lines, a standard that originated in Germany and defines incredibly high levels of energy efficiency that reduce the environmental footprint of the building, he added.
The One North development will house office and retail tenants, including a digital creative agency that will lease three upper floors as well as additional space on the ground floor. Both the East and West buildings face a dedicated and landscaped public green space, which will be open to both tenants and the community. It will encourage education, collaboration and engagement with the larger neighborhood through organized programs and events.