LEED Platinum Awarded to Radio Flyer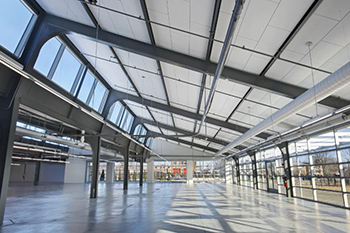 CHICAGO — The manufacturers of the iconic, red Radio Flyer wagon have achieved LEED Platinum for the company's Chicago headquarters building.
Radio Flyer Inc., a manufacturer of wagons, tricycles and three-wheel scooters, received the green certification for its renovation of 70,000 square feet of its current 150,000-square-foot space.
"Our mission is to create awesome kids products that inspire outdoor active play, so it just makes sense that we work to do our part to improve the environment," said Robert Pasin, chief wagon officer, in a statement. "We are so proud to have achieved the distinction of LEED Platinum."
The 70,000-square-foot project transformed the warehouse space into an open concept design, which features exposed wood beams, an indoor and outdoor play lab, eco-friendly parking lot and a landscaped "backyard" adorned with native prairie plants. Natural light fills the space through skylights and indoor glass walls, assisting in energy-use reduction.
The project installed a geothermal heating and cooling system as well as a solar-heated ventilation air system to reduce the building's natural gas use by 50 percent. The building's stormwater management system is capable of retaining 10,000 gallons of stormwater that is then repurposed for fertilizer-free irrigation.
The project also encourages green practices by employees. The renovation created dedicated recycling areas, bike storage and a locker room for employees who bike to work as well as a preferred parking area for high-efficiency, low-emission cars.
During the renovation, 20 percent of building materials used were regional products and 20 percent of building materials were also recycled materials. Other sustainable construction features include highly insulated brick walls, permeable pavers, low-flow plumbing fixtures, low-VOC materials and furnishings, and sustainably resourced wood.
The company also promotes its green practices through its partnership with The Arbor Day Foundation. A tree is planted for each toy that is purchased from RadioFlyer.com. The company is also sustainably conscious in the transportation of their products through its partnership with the U.S. Environmental Protection Agency's Smartway Transport Partnership, which helps businesses move their products in the cleanest, most efficient way.
A sustainable workplace is also important in recruiting new staff, Pasin said.
"Having a green building is an important selling point when recruiting and retaining talent. Young staffers care about sustainable design and seek a workplace that embraces this philosophy," he said. "We did this project not only because it is good for the environment and the people who work here, but because I want to build a company that will last another 100 years. I want to inspire everyone who works here to live and work in an environmentally sustainable way and be an example to other companies."