Presence Center for Advanced Care Earns LEED Gold in Chicago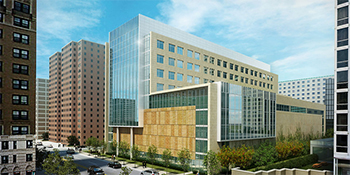 CHICAGO — Presence Center for Advanced Care (PCAC) in Chicago has recently received LEED Gold certification on its 380,000-square-foot ambulatory care center, part of Saint Joseph Hospital.
The Chicago office of CallisonRTKL worked on the design of the new center in a partnership with Hammes Company, based in Brookfield, Wis. Construction was completed by Power Construction Company, based in Chicago.
The main goals of the project were to create an efficient environment, to put patients first and contain costs, according to a statement by PCAC. The design team used the project's urban location in the Lakeview neighborhood of Chicago and its position on an existing bus route as an advantage. The city of Chicago's green roof requirement meant that gave the project a jumpstart on sustainability. The rooftop gardens deflect heat and save energy. Sustainable materials were selected, occupancy light sensors were implemented, and on-site stormwater retention and green power were incorporated into the design, according to PCAC.
The center includes three floors of medical offices, three floors of parking and three floors of ambulatory care including a 23,000-square-foot comprehensive cancer center, according to a statement by CallisonRTKL. To create a new health care experience, PCAC was designed to provide the community with easy access to outpatient services and a dedicated focus on delivering coordinated care by consolidating specialists, according to CallisonRTKL.
"The Presence Center for Advanced Care was designed to foster multi-disciplinary, collaborative care in order to enhance outcomes and the patient experience," said Roberta Luskin-Hawk, regional president and CEO of Presence Saint Joseph Hospital and Presence Saint Francis Hospital, in a statement. "Attention to our patients' mind, body and spirit is an important attribute of the experience as is convenient, seamless, high quality care enabled by smart technology, modern design, superb clinicians and exceptional staff."
Although the $157 million facility was completed in September 2015, it was just recently awarded its LEED Gold certification for its commitment to the environment. While the building features plenty of sustainable features, a unique glass bridge also connects the new PCAC to the existing hospital. A full list of PCAC's LEED Gold scorecard can be found here.