FORT BRAGG, N.C. — Construction on the combined headquarters for Forces Command and U.S. Army Reserve Command at North Carolina's Fort Bragg, one of the state's largest construction projects currently underway, has been completed. The building has been constructed to LEED Silver standards and will be certified as such in 2012.
The 600,000-square-foot, $302 million project will open in summer 2011.
Starting in 2013, all new buildings on military bases must attain standards set by the U.S.
Read more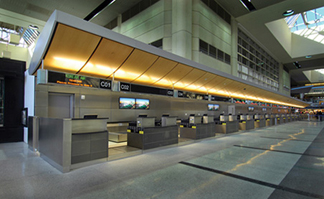 Images courtesy of Leo A Daly
LOS ANGELES —
Los Angeles International Airport is now home to the nation's first LEED Silver for Existing Buildings certified airport terminal, according to reports.

Read more
SALINAS, Calif. — The greening of corrections in California continues with a new $20 million mental health facility in Salinas, the first new state prison building to achieve LEED Silver certification.

The USGBC awarded LEED Silver certification to the 36,000-square-foot mental health treatment facility in recognition of a range of sustainability strategies and cost-saving measures, which are projected to cut water use in half and reduce energy consumption by one-third, officials say.
Read more
Images Courtesy of Lord, Aeck & Sargent.
Read more
OLATHE, Kan. — The new $10.5 million Woodland Elementary School was awarded LEED Silver certification, making it the first educational facility in the state to achieve that environmental designation.
Read more
NEW ORLEANS
—
The recently renovated Joseph A. Craig Elementary School opened for classes in January for the first time since 2007.
The school was designed for LEED Silver certification, but administrators decided not to pursue the designation. Green features of the renovated school include high-efficiency mechanical and energy management systems, insulated windows and doors, pervious concrete, low-VOC paints, and other items.

Read more