New Jersey Architects Awarded for Visitor Center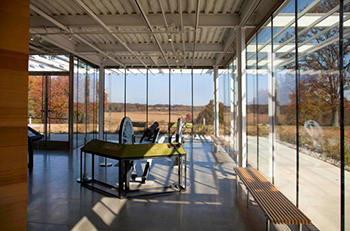 MANALAPAN, N.J. — The New Jersey chapter of the American Institute of Architects (AIA-NJ) recognized ikon.5 Architects with an Honor Award in the Built Open category for its design of the new visitor center at the Monmouth Battlefield State Park in Manalapan.
The Honor Award is the highest honor given to an architect by the New Jersey chapter for work that promotes design excellence. The visitor center project added 8,000 square feet of space to the facility and included 6,000 feet of renovated space. It houses a lobby, exhibition gallery, theater, museum gift shop, and an archeological lab as well as administrative, classroom and storage areas.
Princeton, N.J.,-based ikon.5 designed the center to amend and replace portions of the existing, decades-old facility. The design firm saw the project as an opportunity to create a more environmentally friendly building and to provide up-to-date, exhibition space that tells the story of a critical battle of the Revolutionary War. With few artifacts remaining from the Battle of Monmouth, ikon.5 chose to showcase the battlefield itself and treat it as the main exhibit. Monmouth Battlefield State Park preserves the site of the Battle of Monmouth that was fought on June 28, 1778. It was one of the largest conflicts of the Revolutionary War, and is associated with the legend of "Molly Pitcher." The park is also the site of the Craig House, a restored 18th century farmhouse.
"We were able to frame the battlefield by utilizing large expanses of glass," said Joseph G. Tattoni, FAIA, principal of ikon.5 architects, in a statement. "This enhances the visitor's experience dramatically, providing views that were previously obscured."
"AIA-NJ is thrilled to honor ikon.5 for their outstanding work designing this simple, elegant visitor center with thoughtful detail," said Kimberly Bunn, president of AIA-NJ, in a statement. "The glass wall allows the focus to remain on the battlefield, and the pavilion structure creates continuity between the inside and outside."
The building has several sustainable features and is LEED Silver certified. The glass wall features triple-glazed low-E laminated glass units, which minimizes heat gain and loss, and temperature within the building is controlled with a geo-thermal system. Additionally, the entrance to the center features a rain garden that is irrigated by rainwater collected from the roof.
The single-story structure also has a cantilevered roof of expanded metal mesh that creates a "steel sky" effect. The open pavilion features a glass curtain wall and is sited to provide unobstructed views of the battlefield. A large window in the auditorium looks out to the historical landscape when the room is not being used for presentations.