Houghton College Builds Solar Energy Array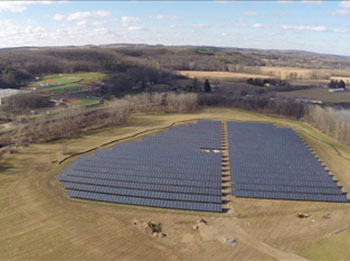 HOUGHTON, N.Y. — Houghton College completed a 2.5-megawatt on-site solar energy installation, the largest on a college campus in the state of New York. The array will provide enough energy to meet more than half of the school's electricity needs, significantly reduce its energy costs and have a positive environmental impact.
A ribbon-cutting ceremony took place on April 17 at the solar array park, located at the Houghton College Field of Dreams, to celebrate the completion of the system. The project was designed and built by Borrego Solar Systems of San Diego, a designer, developer and installer of grid-tied solar photovoltaic systems, and financed by WGL Energy of Washington, D.C., through a power purchase agreement (PPA) that covered all upfront costs. General Energy Solutions, which provided the 8,568-plus solar panels for the project, was the initial owner of the system, but later sold it to WGL Energy.
The system will generate an estimated 3.15 million kilowatt hours of electricity in its first year of operation — the equivalent amount of energy needed to power 370 homes annually — and will allow the college to realize a 23 percent first-year greenhouse gas reduction and save up to $4.3 million during a 25-year power purchase agreement (PPA) contract period.
"The solar project reflects both Houghton College's commitment to renewable energy and our commitment to form creative partnerships for the greater good of our region," said Shirley Mullen, president of Houghton College, in a statement.
The new solar facility will allow Houghton to replace a significant amount of fossil fuel-generated electricity with renewable energy. The installation will offset 2,000 metric tons of CO2 annually, which is the equivalent of taking 421 cars off the road or the amount of carbon sequestered by 1,639 acres of U.S. forests each year.
"We commend Houghton College for reducing the institution's carbon impact while stimulating growth in the solar energy industry," said Sanjiv Mahan, chief operating officer of WGL Energy. "We look forward to completing more projects throughout New York with our diversified offerings across the energy spectrum."
Houghton was awarded funding through NY-Sun, which is a part of Gov. Andrew Cuomo's Reforming the Energy Vision (REV) initiative. Through NY-Sun, the state is promoting solar power, helping it to move closer to a sustainable, self-sufficient solar industry. The New York State Energy Research and Development Authority (NYSERDA) is administered by NY-Sun.
"With this project, Houghton College has shown itself to be a leader in clean energy investment in New York State," said John B. Rhodes, president and CEO, NYSERDA, in a statement. "Earth Day is almost upon us, and this is a good time to think about the value a project like this brings to the state under REV, helping to build an energy infrastructure that is resilient, reliable, affordable and clean."