Cornell Project Earns LEED Platinum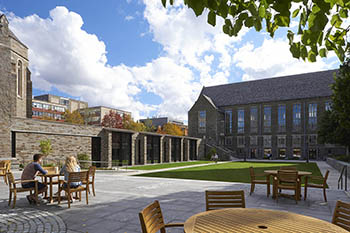 ITHACA, N.Y. — Cornell Law School's latest addition is a prime example of how sustainable features can be incorporated into academic settings. The newly constructed 16,500-square-foot addition to the law school's Myron Taylor Hall was recently certified as LEED Platinum, the highest level of certification available through the U.S. Green Building Council (USGBC).
The addition is the first major renovation project for the law school in 25 years. In addition to new spaces, the design for the project also included a comprehensive 53,000-square-foot overhaul of Myron Taylor Hall and a 7,000-square-foot infill addition to the library. The process was a collaboration between Sorenson Partners of Cambridge, Mass., and Boston-based Ann Beha Architects. Planners for the renovated portion of the building focused on preserving the school's history and providing room for growth without expanding the building's footprint.
The addition was constructed underneath an existing lawn, which helped provide room for a vegetated green roof that provides thermal benefits and boosts energy efficiency. The new space offers three-tiered classrooms, breakout spaces, a new lobby and a café that was formerly locker space. The building has a highly efficient HVAC system that accounts for about 64 percent of its total energy savings. Recycled content and regionally manufactured materials were incorporated throughout the construction effort. This includes locally quarried stone in the courtyard, according to the Cornell Chronicle. Roughly 20 percent of the building material is recycled content, and by recycling and reusing waste materials, builders were able to divert more than 90 percent of project waste away from landfills.
Designers ensured all the paint, adhesives, sealants, flooring and wood products emitted low volatile organic compounds (VOC), which helps reduce indoor pollution. Carbon dioxide sensors were also installed in classrooms so that those areas receive fresh air when occupied. When the areas are unoccupied, the systems shut off to save energy.
Areas in the addition are detailed in a modern classical style, which includes maple paneling, chandeliers, brass railings and boardroom-style interiors for classrooms and meeting rooms. Access points, including an elevator, a communicating stair and a new street-side entry on College Avenue, were designed to harness the historic fabric of the Cornell campus.
Myron Taylor Hall opens up to a revamped quad that was previously underutilized outdoor space. Trowbridge Wolf Michaels Landscape Architects provided the design for the new Purcell Courtyard and surrounding landscape.
Building designers are planning for future phases, including a reconfiguration of the law library and the renovation of a '60s-era building to house offices, administrative support spaces, academic programs and meeting areas.
The law school addition is the second LEED Platinum project and the 15th LEED certified project at the school. The Human Ecology Building has also been certified Platinum and was completed in fall 2011.