NYC's First Net-Zero Energy School Planned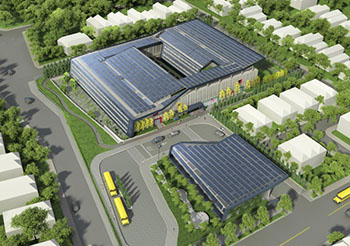 NEW YORK — New York City is planning its first net-zero energy school on Staten Island. The elementary school will be 68,000 square feet and house 444 pre-kindergarten through fifth grade students.
The New York branch of Skidmore, Owings & Merrill LLP (SOM) architects and engineers at AKF designed the school. The school's design is structured to comply with the NYC School Construction Authority (SCA) guidelines rather than LEED guidelines. The school will ultimately use half the amount of energy as a typical public school in NYC.
The school is using several design elements that are becoming standard for net-zero construction and operation practices. The building will be sited to maximize its use of passive solar energy for electricity. The roof and south façade will be covered with photovoltaic panels to increase the school's solar energy usage potential. Geothermal energy will be used for heating and cooling the building, and thermal solar energy will be used to generate hot water.
Additional key elements of the building's efficient design include corridors lit by sunlight, efficient artificial lighting and kitchen equipment, energy recovery ventilators and demand-control ventilation, a greenhouse and a vegetable garden. The building will also have a high-performance building envelope that minimizes air leakage and allows the heating and cooling systems to run as efficiently as possible.
The SCA described the elementary school as a "sustainability lab," or a trial run for testing on-site renewable energy, technology and design.
"It is understood that not all of the lessons learned from this exercise will be applicable on a broad scale," Bruce Barrett, SCA's vice president of architecture and engineering, said in a recent statement. "However this exploration into ultimate sustainability and the subsequent evaluation of our exercise will provide benefits to our School Design Program that would otherwise not realized."
The school features a design shaped around an open inner courtyard, which helps increase the amount of surface area that can be glazed to let in more light. This in turn also helps reduce the need for artificial lighting. The building will have only two stories, which will help maximize the amount of efficient light generated at the ground level.
Construction on the school began shortly before the arrival of Hurricane Sandy. Delays in the project's timeline from the storm pushed the date of completion back to 2015.