Solar Charge Controllers: The Key to Saving Your Energy System Money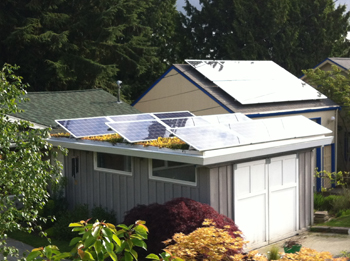 Professionals in the green building industry understand the importance of addressing the varied energy needs of clients during the life of a structure. Green builders and renewable energy system installers recognize that solar is a viable source of energy for many businesses and homeowners, especially as prices for panels continue to fall, dropping system prices and accelerating payback periods based on energy savings. Solar power systems offer substantial marketing advantages for commercial and residential builders as well, boasting recoup rates of up to 97 percent. That's on top of the various incentives offered and the ability to take advantage of net metering to save on utility costs.
However, solar professionals recognize that a significant cost of an off-grid or grid-interactive solar system comes from energy storage — used for storing solar energy during the day for use when the sun is not out at night, or for using energy during the peak times of demand throughout the day, instead of drawing on the expensive energy from the grid. As off-grid systems appeal to those looking for utility independence, and grid-interactive is increasingly becoming a popular alternative to typical grid-tied systems which are not backed-up (and subsequently unusable during outages and emergencies, as well as unable to provide any value during the evening), it's worth reviewing the base technology essential to effective battery storage: the charge controller.
In order to store solar energy for extended periods of time, instead of delivering it directly back to the grid, PV systems have traditionally used rechargeable batteries or battery banks as a method to store excess electricity. Since the power of the sun can vary throughout the day in intensity (irradiance), and PV panels may sometimes be obscured from clouds, shadows or birds, battery banks use charge controllers exactly as their name describes: to control the power charge to the batteries. Solar professionals are very conversant to charge controllers, incorporating them into grid-interactive or off-grid installations often. However, today's solar charge controllers are significantly different from their precursors. Understanding the developments in charge controller technology will assist installers with adoption of energy storage for solar systems, and further the progress for homes and offices to have backup power when they need it.
First Charge Controllers
Solar charge controller technology originated in the early 1980s as one- or two-phase designs. These prior charge controllers were simple and reliable; however, they weren't particularly efficient, and this negatively affected battery health. Batteries would suffer from excessive heat or undercharging because of their on/off charging style. Since backup batteries are one of the most expensive parts of the energy system, this was a major concern.
In less than ten years, the industry's answer to this problem was a "smarter," more complex three-stage pulse width modulated (PWM) design controller that "shifted" voltage modes more smoothly. Solar panels could harvest more energy and batteries lasted longer when connected to these second-generation controllers.
Maximum Power Point Tracking
Today's controllers with MPPT technology operate to ensure the highest release of energy possible from an array, which leads to more modular, less expensive arrays at optimal performance. These MPPT controllers have the ability to track and change with differences in conditions, regardless of irradiance. MPPT charge controllers can dynamically adjust through active software algorithms to help keep PV modules at maximum efficiency despite the most extreme changes. These adjustments ensure the highest level of power, while also preserving the life of the batteries, which means less maintenance and more money saved on energy storage.
In the past, charge controllers could only use PV voltages that matched the battery bank. In comparison, using a MPPT controller can configure modules to charge a range of battery voltages. This scenario of higher voltage and fewer parallel connections allows an installer to save on wiring and other balance-of-system component costs.
The latest generation of charge controllers paired with MPPT technology not only solve the problems of earlier charge controllers, such as low power efficiency or sub-par battery charging; they also prove to save installers money. Ultimately, these cost savings will promote adoption of renewable energy systems for residents and businesses, as well as foster a greener structure and energy efficiency.
Mark Cerasuolo manages strategic brand marketing at OutBack Power, a designer and manufacturer of balance-of-system components for renewable and other energy applications. Cerasuolo's prior experience includes senior marketing roles with leading brands in electrical and electronics products, including Leviton Manufacturing, Harman International and Bose Corporation, as well as work with the Consumer Electronics Association (CEA). More recently he served as marketing lead for Washington State's Department of Commerce.