Green Data Centers are on the Rise
As tech companies expand, data-center construction is expected to account for $70 billion of the construction industry by 2016, according to reports, up from $31 billion in 2009. Despite high energy loads, planners for many of these facilities are striving to reduce their environmental impact.
Data centers require a multitude of electronic components to be used at the same time, creating a high demand for energy. In 2007, the Environmental Protection Agency estimated servers and data centers were responsible for roughly 1.5 percent of the total U.S. energy consumption. However, some companies are working to reduce their footprint.
A data center owned by IBM Corp. in North Carolina was recently awarded LEED Gold certification by the U.S. Green Building Council, marking the first time an IBM facility has reached LEED status.
Key factors in the LEED Gold certification were IBM's reuse of the existing building in its construction. Contractors reused 95 percent of the building's shell and they made sure that 25 percent of additional materials came from recycled products. The construction techniques helped reduced the 100,000-square-foot building's carbon footprint by as much as 50 percent, according to reports.
The building also features a unique rainwater collection system. IBM estimates that the 160,000-square-foot roof could collect as much as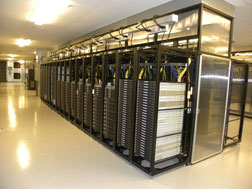 3.5 million gallons of non-potable water per year. The roof on the building is also reflective to reduce indoor air temperatures during the summer months.
"We are very proud to have IBM's first LEED Gold-certified data center right here in North Carolina," says Bob Greenberg, IBM's senior state executive for the state. "Through local sourcing, recycling and tremendous innovation, we've been able to achieve a significant milestone for the company."
IBM is not alone in its pursuit of a smaller carbon footprint. A paper mill in Kymenlaakso, Finland, that is being converted into a Google data center is being engineered to use cold water from the nearby Baltic Sea to cool its interior.
Google paid approximately $52 million for the 53-year-old paper mill, along with 410 acres of surrounding land. The facility is undergoing a $260 million transformation into a server and storage building. The former mill closed in 2008 and is scheduled reopen next year with two server halls, cooled largely by recycled seawater that is brought in by refurbished paper mill pumps, according to reports. The building will also make use of wind energy, supplied by an adjacent wind park.
Yahoo recently put the finishing touches data center in Lockport, N.Y., located in several buildings that closely resemble commercial-grade chicken coops. The $150 million center, supported by a $10 million grant from the U.S. Department of Energy, uses an open-wall design in each of its server buildings to take advantage of northern New York's naturally cool climate.
The 120-by-60 foot buildings use outside air for cooling year round, allowing the entire facility to expend less than 1 percent of its total energy on cooling, according to reports. The runs on 15 megawatts of electricity provided from the hydro station at Niagara Falls.