Green Roofs Continue to Flourish
A field of green atop a building or home — a relatively new concept in the building trades known as a vegetative, or green roof — is on the rise throughout the United States.
Vegetative roofs represent the best aspects of the green movement, partnering two unlikely elements — the utilitarian workhorse of a building, its roof, with an unexpected oasis of green that can be enjoyed even in the heart of a city.
Best of all, vegetative roofs have proven to be attractive and lifestyle enhancing and — when properly installed — long-lasting with low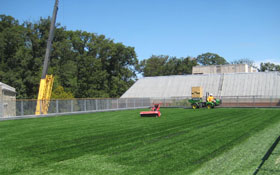 maintenance. Not only do vegetative systems offer an aesthetic value, but aid in storm water management by retaining water and controlling run-off, air and water purification by incorporating beneficial plant life to an urban setting. These systems also help reduce the heat-island effect as they absorb heat at the roof level by slowing evaporation of retained water and insulate against noise and vibration with multiple sound and motion buffering layers.
Vegetative roofs are sprouting up all over, with projects as diverse as the roof of an engineering building at Bucknell University in Lewisberg, Pa., where 150 trays of soil and sedum — a variety of hardy and flowery plants — were recently installed on a 600-square-foot section of a roof, providing a colorful view for stressed-out coeds to take in while on study breaks.
In a more industrious use of a green roofing, a patch of green has been constructed atop Marriott Hall at St. Albans, a prep school on the grounds of the National Cathedral in Washington, D.C. That roof serves as a playing field for the school. Tishman Construction Corp. served as the owner's representative on the project.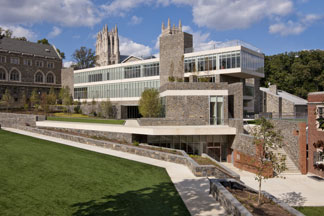 A large-scale vegetative roof project is also a draw at the Target Center, a regional entertainment facility, located in Minneapolis. When it came time to replace the roof of the 20-year-old arena, the City of Minneapolis, which owns the facility, chose a green roof solution as part of its sustainability initiative. The resulting roof is 115,000 square feet (2.5 acres), making it the fifth largest extensive green roof in the U.S., the largest in Minnesota, and the first installed on an arena in North America. The roof will capture nearly 1 million gallons of storm water annually, preventing drainage into the Mississippi River — which is a significant benefit to the area's residents and local environment.
Assembled in a series of layers, a typical vegetative roofing system begins with the installation of various structural decks and insulation. The insulation is sometimes covered with a layer of cover board, followed by waterproofing membrane. The last layers feature a protection fabric/roof barrier, a drainage layer, filter fabric and a moisture retention mat. Upon completion of the many essential layers, the project is finished with growing medium and plants, which at the Target Center are columbine, prairie coreopsis, wild strawberry, dotted blazing-star and lupine, a plant specifically added to attract Karner blue butterflies, a federally listed endangered butterfly.
Such an extensive roofing project presented several challenges, including the size and scope of the project, the number of distinct disciplines integrated into the green roof and the addition of customized features, according to the project's architect, Frank Anderson, of the Leo A. Daly architectural firm.
"These systems see more roof traffic both during and after the assembly, so you need a proven layer of protection in the installation process and beyond," Anderson says. "The cover board not only needs to provide extra protection from foot traffic, but from elements such as hail, snow, wind and moisture."
Of particular importance was protecting the waterproofing membrane and insulation with cover board, Anderson says. Roof assemblies beneath the vegetated roof are expected to last up to 40 years, nearly twice that of a conventional roof, thus making choice of cover board a key component to the system's longevity and success.
Reinhard Schneider is technical development manager for Georgia-Pacific Gypsum. He consulted on the Target Center project.